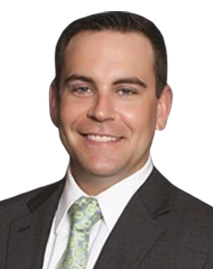 Born in Lakeland, Florida, David attended Warner University on an athletic scholarship to play baseball and received his B.A. in Business Administration in 2008. In 2013, he received his Juris Doctorate Degree from Florida Coastal School of Law.
David began his legal career at The Jordan Law Group in 2013, focusing his practice in the area of personal injury, medical malpractice, homeowners' association, breach of contract, and domestic matters. During his tenure with The Jordan Law Group, David handled numerous trials with outstanding results.
In early 2017, David and his wife relocated to Missoula, Montana, where he practiced defense and plaintiff personal injury and civil litigation matters. Now, as a member of Kemp, Ruge & Green injury team, David is excited and honored to have the opportunity to represent individuals and families who have been injured in various personal injury cases. David is uniquely situated because he can use his years of knowledge and experience in representing insurance carriers, to benefit his current personal injury clients and help them obtain the proper medical treatment and financial results they deserve.
In addition to being admitted to practice in the state courts of Florida and Montana, he is also admitted to practice in the U.S. District Court for the Middle District of Florida, the U.S. District Court of Montana, and the Blackfeet Tribal Court.
Contact Us
About Your Case
We're ready to fight on your behalf. Request a free, no-risk consultation with our attorney's today.