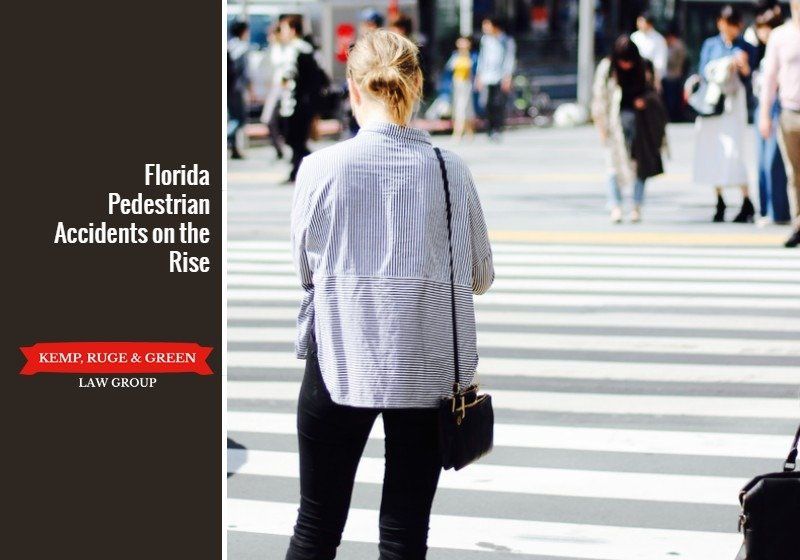 Vehicle accidents involving pedestrians seem to be on the increase these days. While there are many potential reasons for this, a great many safety officials believe that the proliferation of smartphone use is a major reason. This makes sense; the inability of some people to take their eyes off their phones and keep them where they need to look seems like a common problem. Whatever the reason, those pedestrians who are seriously injured in an accident with a vehicle often experience the most devastating and life-altering events most people will ever face.
Pedestrian Fatalities Increased 10%
Pedestrian accidents are surging nationwide. The number of fatalities increased nearly 10 percent over the previous year. According to the National Highway Traffic Safety Administration (NHTSA), more than 5,000 pedestrians are killed and tens of thousands of others are seriously injured every year, and those numbers are rising. Because of our great weather and year-round outdoor lifestyle, pedestrian accidents seem to be a particular problem all over Florida.
40% of all Pedestrian occur in Flordia, California, Texas and New York
Regardless of whether the accident happens in a parking lot, on a sidewalk, in a crosswalk or on a curb at an intersection, Florida sees a high rate of pedestrian accidents involving vehicles, especially cars. According to the Florida Department of Transportation, pedestrians in Florida are twice as likely to be killed in an accident as the national average. The state of Florida is one of four states, along with California, Texas and New York that lead the nation in pedestrian accidents, by a wide margin. Those four states alone account for more than 40 percent of all pedestrian traffic deaths in an average year and Florida leads the way.
This is particularly true in the Tampa Bay region of the state. On Hillsborough County roads, for example, 2015 set records, with 51 pedestrian deaths. Startlingly, that number was 50 percent higher than in 2014. It was also the largest number since they started keeping track in 1998. The entire Tampa metropolitan area, including Clearwater and St. Petersburg was ranked the second in the country (right behind Orlando) among the most dangerous places in the country for pedestrians.
How to Address the Pedestrian Accident Problems?
Thankfully, officials in the region have been addressing the problem, taking steps to address pedestrian safety, including the installation of more and better-marked crosswalks in high traffic areas and stepping up education for children, to show them how to walk safely and how to cross streets safely. Children, in particular, are often victims of these accidents when they step in the street before they should. Most pedestrian accidents occur when drivers fail to obey traffic signals or signs, especially at crosswalks. However, improvements in pedestrian safety are necessary.
Most pedestrian-vehicle accidents occur because the driver simply fails to see the pedestrian. Many parties involved in pedestrian-vehicle accidents, especially insurance companies, assume that they are most commonly the pedestrian's fault, especially when they cross a busy highway. However, while blaming the victim may be good for them, the facts usually indicate something different. If the walker, jogger or cyclist is following basic traffic rules and showing a basic level of care while walking, it is often possible to show that the driver of the vehicle was negligent in some way and it may be possible to hold them accountable.
In other words, while some pedestrian-vehicle accidents are indeed caused by the victim doing something they shouldn't, in most cases the culprit is driver negligence. Increasingly, factors in such accidents include distracted driving, whether the driver is eating or drinking, playing the radio or engaging in an active conversation with a passenger. Increasingly, drivers are getting into accidents like this because they are playing with a smartphone or some other electronic device and not paying close enough attention to the road. In such cases, they may be held liable.
Pedestrian Accident Victim Face Long Road to Recovery
Those pedestrians who have been seriously injured in a car accident often face a tremendous number of obstacles, starting with the prospect of enormous medical bills. There may be a lot more because some may be so badly injured that they may face months of rehabilitation and years of physical therapy. Some extremely serious injuries may be bad enough that the victim needs to spend years trying to learn how to live with their injuries and some may be permanently disabled. They may be incapable of living their lives in the way they did before their accident. That may mean an inability to do the job they had before and it could also mean lost wages or loss of income and it can also mean major changes in the victim's lifestyle and family life.
No matter what their circumstances, the victim can certainly expect the insurance company or other party to do everything possible to get an accident victim to take the smallest possible payout. They can also expect the insurance company's or the opposing party's attorneys to portray the accident victim as negligent in some way. That is why the victim of a pedestrian accident needs an experienced and knowledgeable attorney on their side to conduct a thorough investigation of the circumstances surrounding the accident.
Whenever someone's life has been devastated in any way due to someone else's negligence, the party or parties who can be shown to be liable should be held responsible for the damage and injury they have caused. No one should be able to avoid that responsibility. But in order to get everything they are entitled to, the victim will have to deal with insurance companies or other parties with potentially deep pockets and endless resources, as well as large teams of attorneys to help them do their best to pay out nothing.
Legal Representation You Deserve – Kemp, Ruge & Green
The pedestrian car accident attorneys at Kemp, Ruge & Green Law Group have the skills, knowledge and experience you need to be able to provide you with the representation needed to recover completely from your terrible ordeal. One reason we are able to do that is because our attorneys truly care about their clients. The entire firm operates from a single guiding principle; we believe in helping people. Our firm is among the best in the business; we have won a lot of awards over the years, based at least in part on the fact that our clients choose us and recommend us to others.
If you or a loved one has been in an accident as a pedestrian, you need the strongest and most experienced legal help possible to make the best of your situation. Call or text Kemp, Ruge & Green Law Group today.
Contact Us
About Your Case
We're ready to fight on your behalf. Request a free, no-risk consultation with our attorney's today.