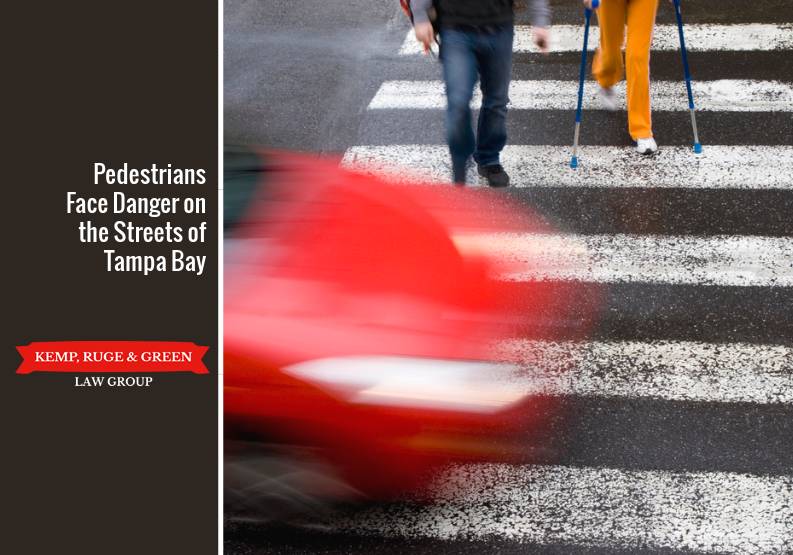 Key Points of This Article:
Recently, Tampa Bay has seen an increase in accidents involving pedestrians and vehicles.
A pedestrian is no match for a moving vehicle in a collision.
You owe it to yourself to learn your responsibilities as a pedestrian and a driver and how to avoid pedestrian accidents. If you are in one, get the legal representation you deserve to pursue compensation for your injuries.
Who knew taking a walk in Florida could be so dangerous?
Collisions with moving vehicles are deadly for pedestrians. When it comes to a face-off between a human body and a huge vehicle, the person is simply no match. What's even worse is a driver who flees the scene of a pedestrian accident – leaving the person alone, very likely injured or perished.
Recently in Tampa Bay, we've seen a wave of breaking news stories about walkers hit by vehicles on local roads – five in October alone. Several of these recent crashes are also hit-and-run accidents where the driver flees the scene.
2019 Bad for Pedestrian Accidents in Tampa Bay
On October 6, teenagers William Calder and Walter Edelman are crossing the street to reach their school bus stop near the intersection of Utica Drive and New York Avenue when Deanna Leggio strikes them with her car. Ms. Leggio claims she swerved to miss other children and hits the two boys instead.
Just after 10 p.m. on October 12, a 1999 Mercedes-Benz SUV hits pedestrian Roy Solomon as he is using a crosswalk on Martin Luther King Street in St. Petersburg. The vehicle speeds away from the scene of the accident.
One day later on October 13, a woman from Seffner hits pedestrian Edward Gigler while he is crossing Fletcher Avenue in Tampa. The driver of the car also flees the scene and is sought by police for the hit-and-run.
The very next day on October 14, Thomas Legg is walking on Highway 19 when a car driven by a man from Port Richey hits him, knocking him to the ground. Although Mr. Legg is rushed to Community Hospital, he dies from his injuries.
Ten days later, in downtown Tampa on October 24, a Hillsborough Area Regional Transit Authority (HART) bus hits a pedestrian. The person is taken to a nearby hospital still conscious and breathing, although their current condition is unknown.
Florida Pedestrian Laws Protect Walkers and Drivers
In light of multiple accidents involving pedestrians, a review of Florida's laws that govern pedestrian crossings and driver safety is in order. You owe it to yourself to learn your responsibilities whether a pedestrian and a driver and how to avoid pedestrian accidents. While Florida drivers are required to exercise care in avoiding pedestrians, pedestrians are also subject to certain laws, including:
For Pedestrians
Where sidewalks are available, pedestrians should not walk in roadways.
If sidewalks are not available, pedestrians are required to walk facing traffic on the left side of the roadway.
Pedestrians must follow traffic signals and avoid walking into the path of a vehicle.
Pedestrians crossing a road anywhere other than a crosswalk must yield the right-of-way to vehicles.
See the full language of Florida pedestrian laws here.
For Drivers
Under Florida's Driver Yield Law, a vehicle approaching a pedestrian legally crossing the street at an intersection must yield or stop to allow the person walking to cross.
If a vehicle driver fails to yield, they face a citation of $164 minimum and 3 points on their driver's license.
Drivers should always take care to avoid striking pedestrians in the road, whether the pedestrian is moving legally or illegally.
There is no legal presumption a driver or a pedestrian will be automatically at fault if involved in an accident on Florida's roads. The circumstances of the incident are determining factors.
You Deserve to Protect Yourself
If you are involved in a pedestrian accident as a walker or a driver, empower yourself to make the right decisions in the aftermath.
1- Remain at the scene of the accident until help arrives.
2- Call 911 and/or contact local law enforcement to seek immediate emergency help.
3- If and when you can, document the accident scene with photos and gather all documentation from the authorities and your medical providers.
4- Contact a Tampa Bay personal injury attorney as soon as possible to discuss your legal rights and your options for pursuing compensation for your injuries.
When Results Matter, Call Kemp, Ruge & Green of Tampa Bay
Regardless of the reason for your injury, if someone else caused it, the only way you can recover from your medical bills and other losses is through a personal injury claim. The attorneys at Kemp, Ruge & Green Law Group handle many areas of personal injury law, including pedestrian and car accident injuries. We believe you should only have to work on getting well, while we worry about using the justice system to protect your rights. We give our clients the best possible results-driven service. You pay us only if we win in injury cases. Call 877-941-4878 today for a free consultation.
Contact Us
About Your Case
We're ready to fight on your behalf. Request a free, no-risk consultation with our attorney's today.