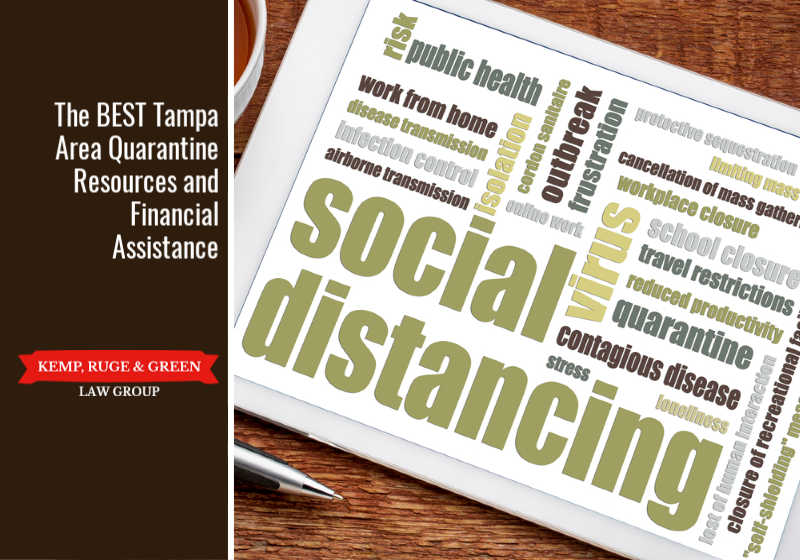 Key Points of This Article :
The coronavirus pandemic has reached Florida and the Tampa area.
The quarantine has left many Tampa-area families without resources.
If you need food, a job, and other basics, here are some helpful options.
"Stay calm. Stay kind. Stay safe." This is the new motto of the City of Tampa during the coronavirus pandemic. It shows the city's dedication to keeping its citizens secure and peaceful as we face this global challenge together.
If you live in the Tampa area, you've already seen the effects of COVID-19. People are losing their jobs, trying to hold onto their homes, and struggling to keep their families safe. Some don't have enough food or money for another day, let alone the weeks to come.
For those struggling during this time of crisis, we have gathered a list of Tampa's best resources. Please note that the availability of these resources may change from day to day as events unfold.
Crisis Resources
The Crisis Center of Tampa Bay is accessible 24 hours a day, 7 days a week by calling 211 on your phone. Resources include confidential advice, crisis intervention, emotional support, and referrals to more than 2,000 organizations that provide food, rent, shelter, clothing, counseling, parenting help, and more for Tampa Bay-area residents.
Social Services
For Tampa Social Services, call the city's recovery hotline at 1-833-TPA-INFO or 1-833-872-4636 from 8 a.m. to 8 p.m. Monday through Friday or visit the online Social Services Page.
United Way Suncoast at 813-274-0900 can also help those who are in need of social services. If you live in DeSoto, Hillsborough, Manatee, Pinellas, or Sarasota County, contact the United Way to discuss your needs and available resources.
Healthcare
Any Florida resident can contact the Florida Department of Health COVID-19 Call Center at 866-779-6121 or by emailing [email protected] or on their online resources page.
Florida's Family Health Care Foundation helps people understand how to navigate the healthcare system, including Florida Kidcare, Florida Medicaid, the Health Insurance Marketplace, and the Hillsborough County Health Care Plan.
Food
Get free meals for children through the Department of Agriculture & Consumer Services. Call 211 or text FLKIDSMEALS to 211-211. You can also call 1-800-HELP-FLA (1-800-435-7352)
or 1-800-FL-AYUDA (1-800-352-9832) to learn about additional resources.
Contact Feeding Tampa Bay at 813-254-1190 for information about community markets, mobile pantries, hot meals, and other food-based resources.
Meals on Wheels at 813-238-8410 can help the homebound senior community stay healthy and fed by providing meals delivered to their homes.
The Florida Department of Agriculture and Consumer Services will be providing access to food for children at Tampa-area schools. To see a complete list of schools, please visit the City of Tampa Social Services page and scroll to the bottom for the school list.
Shelter
Metropolitan Ministries at 9215 N Florida Avenue in Tampa provides help for those who are homeless or experiencing hardships. Call them at 813-209-1000 or visit their Florida Avenue location.
The Spring of Tampa Bay, Inc. offers a safe emergency shelter for women, children, and victims of domestic abuse. Call their emergency hotline anytime at 813-247-7233.
Homeowner Assistance
Solita's House can help you with education and counseling about your home, as well as money management for those with low to moderate incomes.
Rebuilding Together Tampa Bay helps with home repairs and keeping people safe and warm now and in the future.
The Corporation to Develop Communities of Tampa helps homebuyers and provides distance services like video conferencing and email to help solve homeownership dilemmas.
Small Business Assistance
Small business owners experiencing financial damage can apply online for the State of Florida Bridge Loan Program. Loans of $50,000 to $100,000 are possible through the program.
Apply for the SBA Economic Injury Disaster Loan if you are in a Florida disaster area and need an affordable loan to keep running your small business.
Small businesses can request disaster assessments from Florida Disaster and find out what kinds of resources are available to you.
Federal disaster relief is still a work in progress, but visit the U.S. Small Business Administration Emergency Preparedness and Disaster Assistance page for more information and to apply for upcoming aid.
Employment
If you are struggling to stay employed or wish to pursue re-employment assistance, formerly known as unemployment benefits, contact the Florida Department of Economic Opportunity.
Electricity and Gas
Here are links to Tampa's top electricity and gas utilities, Tampa Electric and People Gas. To help people who are struggling to pay bills, both companies have suspended disconnections for non-payment through April.
Spanish-Language Assistance
The Hispanic Services Council operates a Spanish-language phone line at 813-936-7700 for resources in the Tampa area.
Seniors
Seniors can seek help at the Senior Connection Center. Their Elder Helpline connects seniors and their caregivers to information and programs including Medicare, in-home health care, food, legal services, and more.
Technology
If your child needs computer access for school/online learning, Computer Mentors is helping kids find the resources they need to stay connected online.
Legal Assistance
The Florida Bar has a legal resources page dedicated to the COVID-19 crisis. See new court orders and announcements regarding legal enforcement.
As you face this community crisis, many new legal challenges may arise for you. Contact Kemp, Ruge & Green at 877-941-4878 today for a free consultation.
When Results Matter, Call Kemp, Ruge & Green of Tampa Bay
If you need legal assistance during the quarantine, contact us. The attorneys at Kemp, Ruge & Green Law Group handle many areas of personal injury law. We believe you should only have to work on staying afloat, while we worry about using the justice system to protect your rights. We give our clients the best possible results-driven service. You pay us only if we win in injury cases. Call 877-941-4878 today for a free consultation.
Contact Us
About Your Case
We're ready to fight on your behalf. Request a free, no-risk consultation with our attorney's today.