Blog
|
September 14, 2020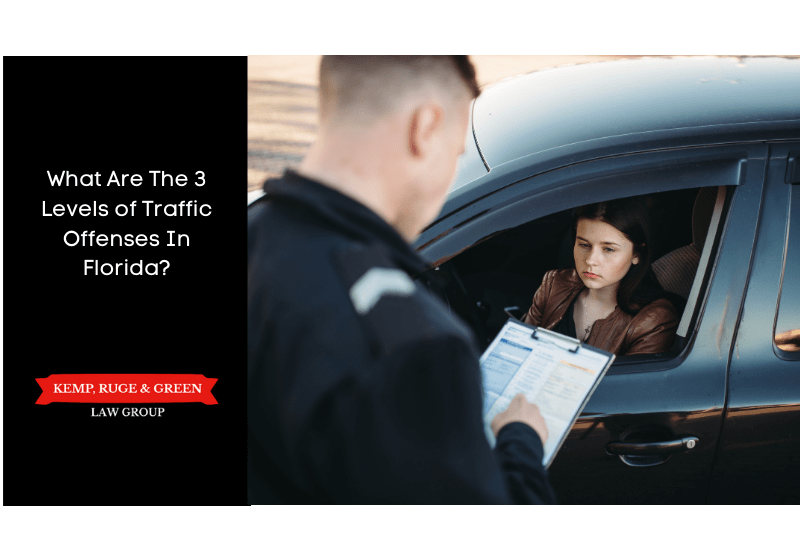 Key Points of this Article
There are 3 different levels of traffic offenses in Florida
Disregarding traffic offenses in a common and potentially costly mistake
Jail time could be a possible outcome, depending on severity
What Is A Traffic Offense?
One of the most common ways that the law is broken is through traffic offenses. Being that in most states a vehicle is the main form of transportation, this allows for multiple instances where traffic offenses can occur. These can come in the form of rolling through a stop sign, running a red light, failure to use a turn signal, texting while driving and many more. The fact that there are so many ways to commit a traffic offense, means that there are too many instances to possibly all be caught. No driver is perfect, some are much better than others, but we all have committed traffic offenses whether we realize it or not.
Why Should I Be Concerned With Traffic Offenses?
When these offenses do happen to get caught is when they can have a potential impact on you and your future. In Florida there are three types of offenses, each with increasing severity.
Infractions – An infraction is typically a minor violation, like getting a ticket for parking in the wrong spot.
Misdemeanors – Many people don't realize that a misdemeanor is more serious and can lead to jail time. For example, reckless driving can be either a misdemeanor or a felony, eligible for three to six months in jail.
Felonies – A felony is severe and can sometimes involve a long prison sentence.
Depending on the type of offense, the punishment can be a fee, revoking of driver's license, or even jail time. If you receive one or more offenses, it is in your best interest to address these right away and get them resolved. Allowing them to sit for any period of time can lead to a potentially worse outcome.
What Happens When I Get A Ticket?
You should pay the ticket immediately unless you feel that it can be contested in which case you should seek out a traffic offense lawyer to help validate your claim. If tickets accumulate and are left unpaid, over time they can result in the suspension or revoking of your driver's license until they are settled.
When Would A Traffic Offense Result In Jail Time?
If you happen to be one of the unlucky Florida residents that has acquired in a 5 year period 3 or more offenses you may qualify for jail time, barring a judge's ruling, as a Florida Habitual Traffic Offender.
You will need to seek legal advice immediately from a traffic offense lawyer. They can help you clear everything up by sorting out your driving history. They can establish what kinds of traffic offenses you have, what kinds of penalties you may owe, and whether you're facing jail time. They can bring clarity to the situation and help you to work to minimize future consequences.
When Results Matter, Call Kemp, Ruge & Green of Tampa Bay
For your legal questions, connect with a Tampa Bay traffic offense lawyer. With years of experience in traffic offense law, whatever you need, and whatever questions you may have, the team at Kemp, Ruge & Green can help you. We believe you should only have to focus on living your life, while we worry about using the justice system to protect your rights. We give our clients the best possible results-driven service.
Call us at 727-999-4366 or submit a contact form for a Free Consultation.
Contact Us
About Your Case
We're ready to fight on your behalf. Request a free, no-risk consultation with our attorney's today.