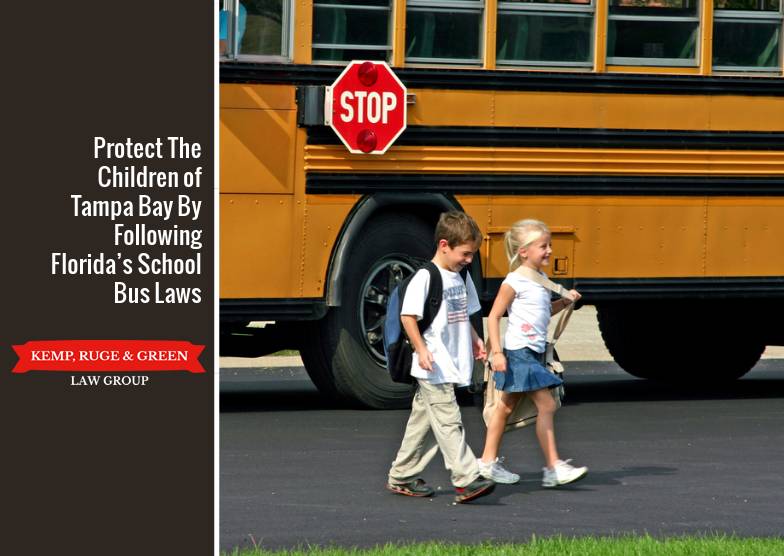 Key Points of This Article:
Many Tampa Bay drivers don't follow school bus laws and local school children aren't safe as a result.
Research shows hundreds of school bus law violations occur in our area every day and thousands of crashes happen each year.
If your child is hurt or worse in a school bus accident, you owe it to yourself to get expert legal advice as soon as possible.
More than 2,500 school bus crashes happen every year in Florida, and in recent years the number has been as high as 3,400. In fact, when this figure rose every year for five straight years, the Florida Highway Safety and Motor Vehicles (FLHSMV) administration and local legislators pushed for new laws to promote greater school bus safety.
This is part of the push behind our state's new Wireless Communications While Driving Law, which went into effect October 1, 2019. It prohibits the use of any handheld wireless communication device in a school zone. If you're caught violating this law, you could receive a $60 fine and three points on your driver's license.
This law adds to others already on the books, like the Cameron Mayhew Act that took effect in 2017. After 16-year-old Cameron Mayhew was killed while walking to his bus, a new Act established minimum penalties for school bus violations, including a $1,500 fine, six points on your license, a one-year license suspension, and 120 hours' community service at a hospital emergency trauma center.
Despite these comprehensive new school bus safety laws, many Tampa Bay drivers still don't abide by the rules.
Tampa Bay Drivers are Putting Children at Risk
Stories in the Tampa Bay news media show the extent of the disregard for these laws. Recently in Pinellas County, local school officials and law enforcement officers worked together on a study to see how many local drivers are ignoring school bus laws.
Based on video evidence recorded on newly-installed 360-degree school bus cameras, more than 600 drivers illegally passed Pinellas school buses on just one day. Although law enforcement will not use video footage to prosecute drivers, they are using it to educate the public about the need for school bus safety.
In another news story, the Florida Department of Education counted 10,930 drivers illegally passing stopped school buses on a single day. The study finds the most common type of violation involves drivers passing the school bus in the oncoming lane while the bus is stopped with its warning lights, signs and signals activated.
No Excuse to Ignore Florida's School Bus Laws
Florida school bus laws are designed to keep school children safe. If you drive, you should know these laws and do your part to promote safety on the roads of Tampa Bay and beyond:
It is illegal to use a handheld communication device in a designated school zone.
When traveling on either a two-lane road or a multi-lane road, vehicles going both directions must stop for a school bus that is stopped with warning signals activated.
If you're on a divided highway with a center lane divider and you're behind a stopped school bus, you must stop. Drivers traveling in the opposite direction on a divided highway are not required to stop but must proceed with caution.
Tampa Bay Kids Deserve Your Support of School Bus Safety
In addition to abiding by Florida's school bus laws, keep Tampa Bay's children safe on the roads by following these safety tips from the FLHSMV and Kemp, Ruge & Green:
Always follow school zone speed limits and obey directions from crossing guards.
When you see a school bus, watch closely for stops and warning signals as well as children exiting the bus or waiting on the side of the road to board.
Near schools and school buses, drive with extra caution and watch for children crossing the road both alone and in groups.
Remember, children don't always move in predictable ways. They may dart out from behind school buses and make sudden changes in direction.
Beware of children riding bicycles, because they may not be aware of the rules of the road.
If your child is hurt or worse in a school bus accident or if you are involved in a violation related to Florida's school bus laws or another type of driving incident with a bus, you owe it to yourself to get expert legal advice as soon as possible. These situations are taken very seriously by Florida's courts and you'll need an experienced Tampa Bay bus accident attorney by your side.
When Results Matter, Call Kemp, Ruge & Green of Tampa Bay
Regardless of the reason for your injury, if someone else caused it, the only way you can recover from your medical bills and other losses is through a personal injury claim. The attorneys at Kemp, Ruge & Green Law Group handle many areas of personal injury law like bus accidents. We believe you should only have to work on getting well, while we worry about using the justice system to protect your rights. We give our clients with the best possible results-driven service. You pay us only if we win in injury cases. Call 877-941-4878 today for a free consultation.
Contact Us
About Your Case
We're ready to fight on your behalf. Request a free, no-risk consultation with our attorney's today.