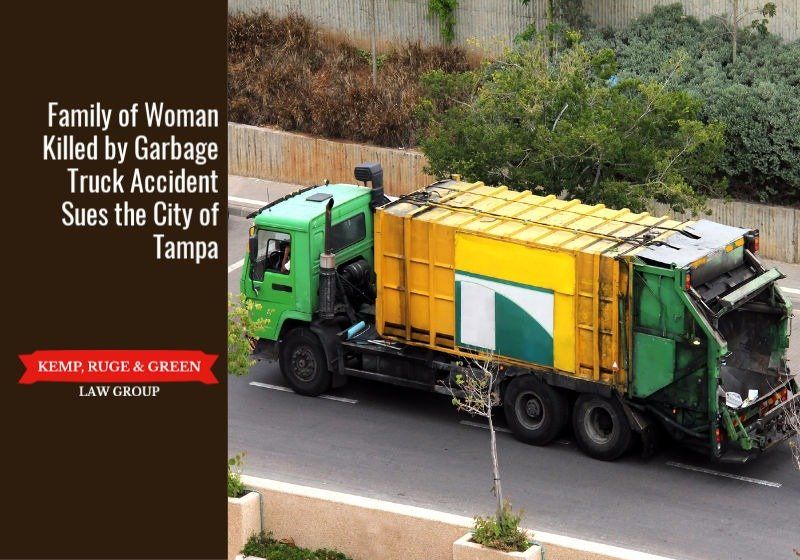 Key Points of This Article:
A Tampa woman died after being struck by a city garbage truck.
Her relatives sued the city for negligence.
Florida families can sue for wrongful death in many types of cases.
When a Tampa woman went on her usual morning walk on a summer morning, she never expected it to be the last walk of her life. In fact, she probably didn't even notice the garbage truck before it backed over her and killed her. Its backup lights and sounds weren't working.
This tragic accident happened in the Davis Islands in June 2018 as a City of Tampa sanitation employee was doing his morning rounds. According to a police investigation, Jarvis Horatio Mercer backed the truck down an alleyway and hit the woman as she passed by, dragging her 20 to 30 feet before realizing what had happened.
Mercer wasn't accused criminally in the case but received a traffic citation. The woman's family places the blame on the city for failing to keep the garbage truck in good working order. Their lawsuit claims that the city consented and gave permission to Mercer to operate a truck that lacked functioning backup lights or sounds.
The City of Tampa Faces a Wrongful Death Lawsuit
In the case described above, the woman's family is seeking more than $15,000 for medical bills and funeral costs, along with compensation for their mental pain and suffering. According to a Tampa Bay Times investigation of the city's own truck inspection records, the garbage truck had already experienced equipment failures leading up to the accident and was not in compliance with Florida law for backup warning indicators.
Although nothing can bring back their loved one, the family is taking action through a wrongful death lawsuit – a type of personal injury lawsuit that deals with death, fault, and negligence. In Florida, surviving family members have the right to hold a negligent party responsible for a preventable death and can receive compensation for their losses.
When is an Accident Not Just an Accident? When it's Wrongful Death.
It might seem like the garbage truck accident is just a fluke, but the truth is that these kinds of situations happen every day. All around us, there are worksite injuries, neglected properties, dangerous products, drunk drivers, and more. A loved one can be gone in an instant.
For a family left behind, it sure doesn't seem like an "accident." Often, it's the result of outright negligence and it feels painfully obvious that the death was preventable. Somebody didn't do their job, didn't maintain their property, or didn't follow the rules of the road. That's when you have excellent grounds for a lawsuit.
Here in the Tampa Bay area, some of the most common types of wrongful death lawsuits we see include:
Medical malpractice
Providing alcohol to minors
Worksite injuries
Drunk driving on the road or on the water
Motorboat, jet ski, and other watercraft crashes
Here's How to Pursue a Wrongful Death Lawsuit
If you and your family ever experience the loss of a loved one due to someone else's negligence, don't wait to take action. For wrongful death lawsuits, Florida has a statute of limitations of two years from the date of the incident.
You deserve to be compensated for your loss so you can get the help you need to heal and move forward. Losing this person will change your life forever. You could soon find yourself facing a pile of medical bills and struggling to survive without their income. Lacking their companionship, you could fall into a depression and see your quality of life drain away.
A wrongful death lawsuit helps you regain financial stability and gives you a sense of empowerment. At this difficult time, your next priority should be to call a Tampa Bay wrongful death attorney. Place the responsibility where it belongs, in honor of your loved one.
When Results Matter, Call Kemp, Ruge & Green of Tampa Bay
After a wrongful death, connect with a Tampa Bay wrongful death lawyer. The attorneys at Kemp, Ruge & Green Law Group handle many areas of personal injury law, including wrongful deaths. We believe you should only have to work on healing, while we worry about using the justice system to protect your rights. We give our clients the best possible results-driven service. You pay us only if we win in injury cases. Call 877-941-4878 today for a free consultation.
Contact Us
About Your Case
We're ready to fight on your behalf. Request a free, no-risk consultation with our attorney's today.