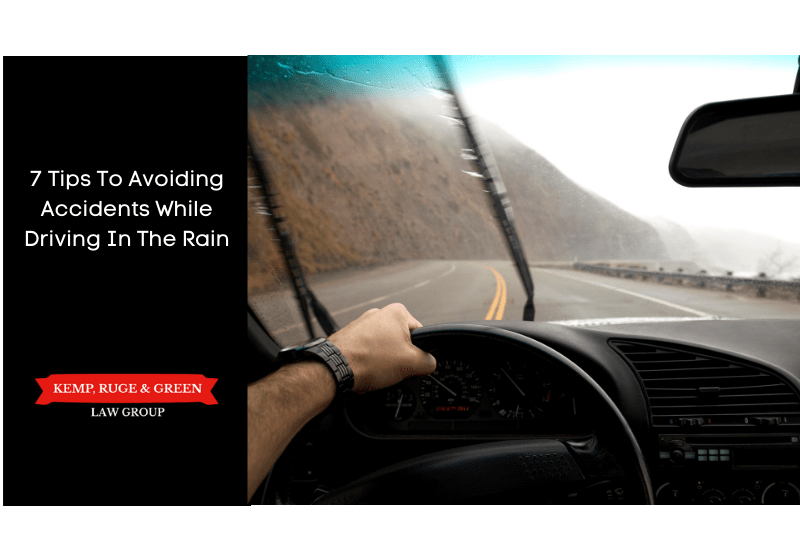 Key Points of this Article
Driving in the rain cannot always be avoided
Being alert and not distracted is very important
Maintaining your vehicle will contribute to your safety
Rain On The Roads
Car accidents are quite common when it rains. Living in Florida means that there is a good chance that you will be driving in the rain constantly. The more you drive in the rain the higher the likelihood to be involved in an accident. This can be a scary thought as there are still many other drivers out on the road and each one could potentially cause an accident. There are however measures that you can take to ensure that your best efforts are put forward toward being as safe as possible while driving on wet, slick roads.
Here are 7 ways you can help avoid an auto accident while driving in the rain.
Timing
Tires
Speed
Headlights
Windshield Wipers
Spacing
Control
Timing – If you are able to wait out the inclement weather then do so. Typically storms will pass through and then allow for better driving conditions, although this is not always the case and you may have to travel through it anyway.
Tires – It is always important to be sure that your tires are properly inflated and in good condition. This applies more so with rain because good traction is critical to your safety.
Speed – During a storm it is important to remember that the normal speed limit and flow of traffic will not apply. You should reduce your speed and pay close attention to the other drivers around you.
Headlights – Having your headlights properly maintained is important so that you are able to see and be seen as visibility is reduced.
Windshield Wipers– Your windshield wipers are highly crucial to your successful driving in the rain as they are your primary defense from the downpour.
Spacing – Much like with speed reduction, spacing between you and the car in front you should not be normal. It is important to remember to give yourself extra space to allow for making decisions safer, such as changing lanes, as well as allowing for more time and distance to brake.
Control – If hydroplaning begins to occur, where your car loses traction and some or all control, it is crucial that you do not slam on the brakes as this will only worsen the situation. Remaining calm, removing your foot from the gas pedal, and trying to steer your vehicle the way it needs to go and away from other vehicles is your best course of action.
If you are able to follow all or a majority of these tips, you should be able to avoid a car accident although this can obviously not be guaranteed.
What Should You Do If You End Up In An Accident Regardless?
The weather can be unpredictable and sometimes cruel, so following these helpful tips is a step in the right direction. Routinely practicing these tips and regularly keeping up with the maintenance of your vehicle should reduce the likelihood of getting into a car accident while raining. Much like the weather, you can not control how other people drive and there is a good chance that many of them may not know or follow these tips. If in the unfortunate event that you are involved in an auto accident, seek out a Car Accident Lawyer.
When Results Matter, Call Kemp, Ruge & Green of Tampa Bay
Regardless of the reason for your injury, if someone else caused it, the only way you can recover from your medical bills and other losses is through a personal injury claim. The attorneys at Kemp, Ruge & Green Law Group handle many areas of personal injury law including car accidents. We believe you should only have to work on getting well, while we worry about using the justice system to protect your rights. We give our clients the best possible results-driven service. You pay us only if we win.
Call us at 727-877-3582 or submit a contact form for a Free Consultation.
Contact Us
About Your Case
We're ready to fight on your behalf. Request a free, no-risk consultation with our attorney's today.