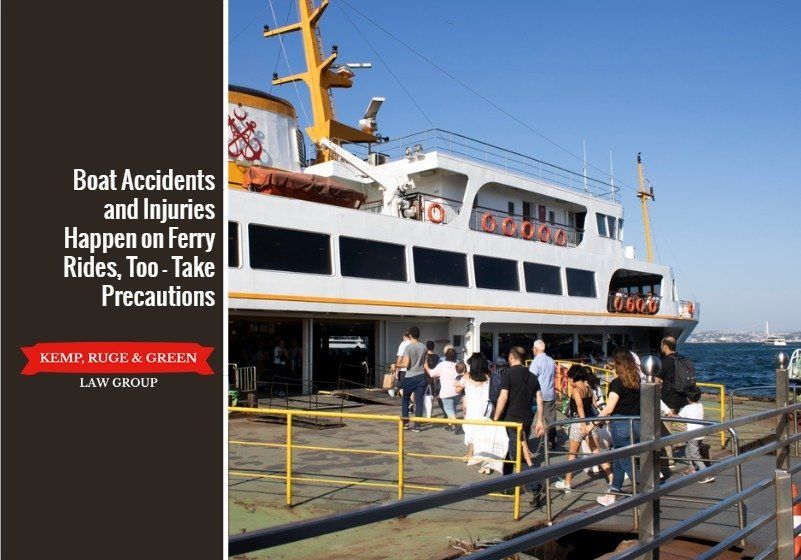 Key Points of This Article:
You could be injured in a Cross Bay Ferry accident. Other boat disasters show how awful they can be for the injured and others involved.
Before taking a ride on a ferry, familiarize yourself with safety procedures that could save your life in an emergency.
After a boat accident, get legal representation from a Tampa Bay boat accident attorney.
Tampa Bay's Cross Bay Ferry is now back on the waterways,running Wednesdays through Saturdays from the Tampa Convention Center to St.Petersburg. Her sister ferry, the Tampa Bay Lightning, shuttles people to andfrom downtown Tampa for Lighting ice hockey home games.
What would happen if either the Cross Bay Ferry or the Tampa Bay Lightning crashed while you were on board?
What would happen if your ferry -or any boat you're on- catches on fire? These scenarios aren't as far-fetched as you might think. Boat accidents are unpredictable and can happen in moments.
Think back to the Conception boat fire that happened off the coast of California on Labor Day weekend 2018. Dozens of people were trapped on the burning hull of the ship and 34 people died in the flames. Inspectors later determined that the fire started due to frayed wires in the hull, but the real tragedy was a lack of posted emergency exits as required by law.
Boat disasters litter Tampa Bay's history as well. On May 9, 1980, now known to Tampa natives as The Day the Skyway Fell, morning fog and low visibility caused a boat captain to hit a support beam on the Skyway bridge. Huge sections of the bridge toppled into the water. In the ensuing chaos, 28 people died of blunt force injuries and seven people drowned.
Florida Leads Nation in Boat Accident Frequency
Boat crashes are a lot more common than most people realize, especially in Florida. In 2018, the number of Florida boat accidents actually dropped to 607 from 766, yet we still remain the U.S. state with the most boat crashes. That year 67 people lost their lives in boat accidents and hundreds more were injured.
In fact, here's a bit more history that shows how often boats go off-course in Florida waters. After the Tampa Skyway disaster, 36 enormous safety bumpers were installed under the bridge to deflect stray boats. Within eight years of the disaster, all of the bumpers had been rammed by a boat at least once, even the bumpers located 70 to 80 yards from the main shipping channel.
If you keep in mind all of these people operating the errant boats are professional marine captains, it's easy to see how the many thousands of Florida's weekend boat drivers could be far more inexperienced at navigation, especially in choppy waters, fog or high winds.
According to safety experts, keep these points in mind about boat safety on large boats and ferries:
For the crew, routine safety inspections and preventive maintenance are critically important for catching hazards aboard boats.
For passengers, fire extinguishers can save lives so make sure you know how to use one.
Emergency exits should be clearly posted and passengers should familiarize themselves with these exits before departing from shore.
Listen to any safety warnings from the crew and determine the locations of safety vests.
Avoid too much alcohol anytime you are on a boat. Alcohol use contributes to boat crashes and slows your reaction time in the event of a disaster.
After a Boat Accident, Stand Up for Your Rights With Legal Representation
Injuries from boat accidents can be very serious, so if you're injured on a ferry or involved in a boating accident, act as quickly as possible. Contact a Tampa Bay boat accident lawyer who can help you understand your rights under the law, hold the right people responsible for the crash and the seek compensation for your injuries.
When Results Matter, Call Kemp, Ruge & Green of Tampa Bay
Regardless of the reason for your injury, if someone else caused it, the only way you can recover from your medical bills and other losses is through a personal injury claim. The attorneys at Kemp, Ruge & Green Law Group handle many areas of personal injury law like boat accidents. We believe you should only have to work on getting well, while we worry about using the justice system to protect your rights. We give our clients with the best possible results-driven service. You pay us only if we win in injury cases. Call 877-941-4878 today for a free consultation.
Contact Us
About Your Case
We're ready to fight on your behalf. Request a free, no-risk consultation with our attorney's today.