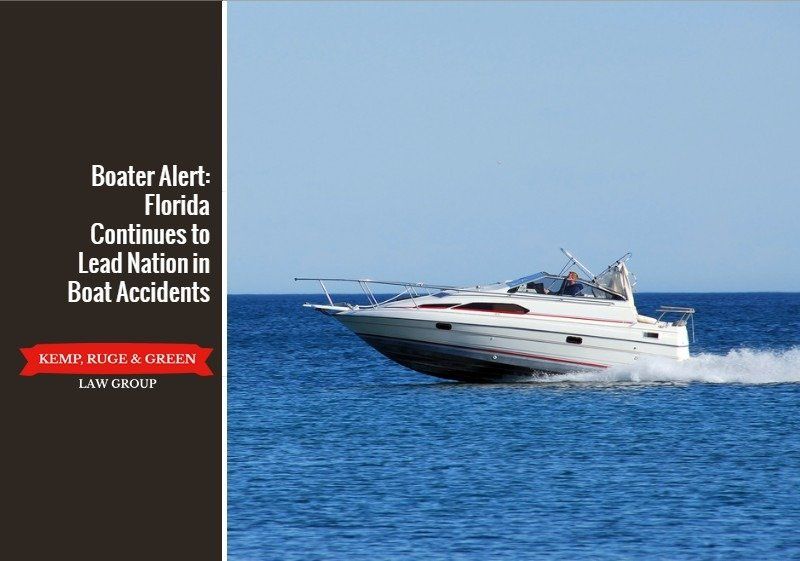 Key Points of This Article :
More boating accidents happen in Florida than anywhere else in the country
Boat accidents have a higher risk of injury or death due to fire
Whether a driver, an onboard passenger or a person hit in the water, you need legal representation from a lawyer who understands boating law and will protect your rights
Do you know Florida has more boating accidents than anywhere else in the United States? More people are injured, too -607 boating accidents, 297 injuries and 57 deaths occurred on Florida's waterways in 2018 alone- including Tampa Bay, our state's rivers and other waterways. What's more, Florida's boaters also had more than $7 million in property damage.
Since 2013, a steady rise in the number of boating accidents is trending all over the country and Florida is at the forefront. Is there a silver lining?
While boating accidents are on the rise, the number of deaths due to boating accidents on Florida's waters have actually decreased since 2015. The U.S. Coast Guard reports Florida boaters are taking more precautions on the water to prevent fatalities, like completing required boating safety courses and staying more aware of others who share our waters, like nearby swimmers, fishermen, personal watercraft operators and other boaters.
Man Gravely Injuredin Hillsborough River Boating Accident
A recent collision between a boat and a personal watercraft on the Hillsborough River, which winds through Pasco and Polk Counties and into downtown Tampa, leaves a man in a coma and shows how dangerous boating accidents can be for people enjoying our waterways.
Security camera video shows the jet ski operated by 30-year-old Lex Logan Sammons veered directly into the path of a nearby boat, which instantly knocked him unconscious and left him submerged.
The driver of the boat, Jeffrey Lawrence Gustafson, jumped into the water and pulled Mr. Sammons to safety, waiting with him until emergency assistance arrived. Doctors put Mr. Sammons in a medically-induced coma after surgery to relieve swelling from a skull fracture. He also sustained a pelvic fracture, fractures in his face, cuts on his leg and bruises all over his body from the accident.
How to Stay Safe on Florida Waters
Be prepared for boat safety by taking the following precautions before you head out for the water.
Learn Florida's boating laws . For example, anyone born after September 30, 1988 must complete a boaters' education course or competency exam prior to operating any vessel powered by a motor of 10 horsepower or more.
Avoid alcohol . It is estimated that 100 boating deaths per year can be attributed to alcohol use on the water.
Carry a fire extinguisher . Boat accidents carry a serious risk of fire due to the flammability of fiberglass, so keep a fire extinguisher onboard.
Be aware of timing . Dawn and dusk have limited visibility, which is why Florida restricts the operation of personal watercraft to ½ hour after sunset to ½ hour before sunrise.
Maintain your watercraft . According to the National Transportation Safety Board, regular maintenance can prevent equipment-related fires like the one in January 2018 on the Island Lady casino cruise ship off Florida's Port Richey.
Bring life jackets . Coast Guard data shows that 75% of boating deaths are due to drowning and 84% of those people weren't wearing life jackets.
What to Do After a Florida Boat Crash
If you're in a boat crash on Florida waters, here's what to do immediately after the accident and in the following days.
Call 911 or ask someone to do so.
Remain at the scene of the accident or nearby in a safe spot.
Seek medical attention as needed.
Document the accident with photographs.
Save documentation from the authorities and insurance company.
Contact a Florida boat accident attorney as soon as possible.
Empower Your Peace of Mind In Tampa Bay
Boat accidents are traumatic for everyone involved. A crash often causes severe injuries, a need for emergency medical assistance, a risk of injury or death from fire and drowning, boat damage and lasting physical and emotional scars for the people involved.
If you've been involved in a boating accident on a Floridawaterway – whether you are the driver of a boat, an onboard passenger or a person who is hit by a boat- you need legal representation from the Tampa Bay boat accident lawyers on your side to protect your rights.
Personal injury attorneys who understand Florida's boating laws usually help you without charging fees unless you win a settlement for your injuries. With the right legal assistance, you are empowered to pursue injury compensation without worrying about the cost, so you can heal from your injuries with a peace of mind.
When Results Matter, Call Kemp, Ruge & Green of Tampa Bay
Regardless of the reason for your injury, if someone elsecaused it, the only way you can recover from your medical bills and otherlosses is through a personal injury claim. The attorneys at Kemp, Ruge &Green Law Group handle many areas of personal injury law, including boataccidents. We believe you should only have to work on getting well, while weworry about using the justice system to protect your rights. We give ourclients with the best possible results-driven service. Youpay us only if we win in injury cases. Call 877-941-4878today for a free consultation.
Contact Us
About Your Case
We're ready to fight on your behalf. Request a free, no-risk consultation with our attorney's today.