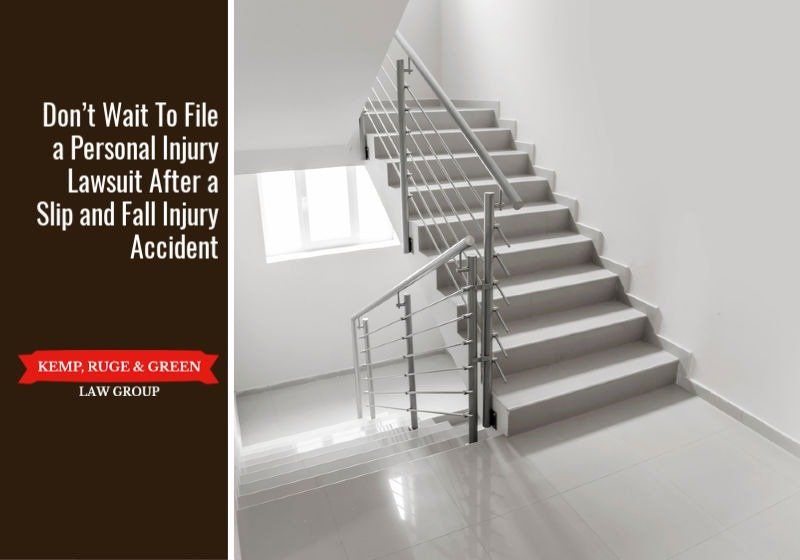 Key Points of This Article:
A slip and fall injury can happen unexpectedly in your everyday life.
Older adults are more prone to slip and fall accidents.
Take action after a fall by contacting an attorney before your legal time limit ends.
What if you tripped on loose carpeting in a store, fell to the ground and broke your hip? You'd want the store to take responsibility for the unsafe situation they created, right?
After all, you're now facing expensive medical bills and months of recovery time. The average cost of a slip and fall injury in Florida is between $20,000 and $48,000. Can you take that hit to your budget, especially if you have to miss work due to your injury?
This is a situation that can result in a slip and fall personal injury claim, where someone sues for compensation due to another person or organization's negligence in maintaining the environment. Whenever someone fails to keep their property safe, they put other people at risk. 
Slip and Fall Injuries From Accidents Surprisingly Common
Every year more than one million trips to U.S. emergency rooms are due to slip and fall injuries, and falls are the number one cause of emergency room visits. Many of these injuries are quite serious. About 20% of people who are injured in slip-and-fall accidents will miss more than 30 days of work and a significant proportion will never fully heal from their injuries.
A slip and fall injury can happen in an instant. It can also happen at any time in your everyday life – while visiting a friend, shopping in a store, seeing your doctor, walking through your apartment complex or hundreds of other places. Some of the most common contributors to falls include:
Wet and damp surfaces
Icy and snowy walkways
Uneven flooring materials
Loose or chipped floorboards and mats
Worn carpeting
Potholes in parking lots
Cracked, uneven sidewalks
Cluttered areas
Dangerous staircases
Missing and damaged handrails
Wires and cords strung across the floor
Inadequate lighting or total lack of lighting
With Slip and Fall Accidents, Age Is A Factor
As we age, our likelihood of experiencing a slip and fall injury increases. Our bodies grow more brittle over the years and we may develop mobility or vision issues that make us more prone to tripping, slipping, falling and being knocked over by moving objects. Consider these facts about falls and aging.
Falls are the leading cause of workplace injuries for people over 55.
Falls are the second leading cause of brain and spinal injuries for people over 65.
About 40% of all nursing home admissions take place after a fall.
Inside nursing homes, about 60% of patients/residents will experience a fall.
Of all U.S. citizens over age 65, one in three will experience a fall and half of those will experience more than one fall.
Each year, over 15,000 people over age 65 die from falls.
For people older than age 85, falls are the leading cause of death.
After a Fall, Empower Yourself to Take Action
Many people don't realize that there's a firm time limit on filing a personal injury lawsuit after a slip and fall accident. Under Florida law, you have four years from the date of the incident to file a claim for compensation. 
But if you ever suffer a slip and fall injury, don't wait years before you decide what to do. The hours and days immediately following the incident are the best time to gather the evidence you'll need to succeed with a claim. As time passes, memories will fade and some documentation could be lost.
Reach out to an experienced Florida personal injury lawyer who can help you get the process moving quickly. This gives you the best chance of making a full recovery, getting the compensation you deserve and moving forward with your life after your injury.
When Results Matter, Call Kemp, Ruge & Green of Tampa Bay
Regardless of the reason for your injury, if someone else caused it, the only way you can recover from your medical bills and other losses is through a personal injury claim. The attorneys at Kemp, Ruge & Green Law Group handle many areas of personal injury law including slip and fall injury accidents. We believe you should only have to work on getting well, while we worry about using the justice system to protect your rights. We give our clients with the best possible results-driven service. You pay us only if we win in injury cases. Call 877-941-4878 today for a free consultation.
Contact Us
About Your Case
We're ready to fight on your behalf. Request a free, no-risk consultation with our attorney's today.