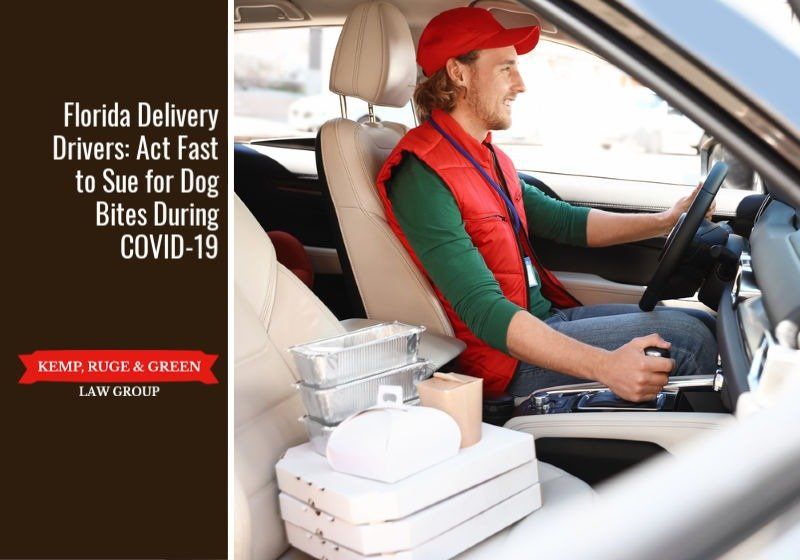 Key Points of This Article :
Delivery drivers risk dog bites as home delivery is in high demand during COVID-19.
Florida delivery drivers have a limited time to sue over dog bite injuries.
Know your rights and if you're injured, demand what you deserve.
Dogs and delivery drivers are a dangerous combination. As home-delivery workers run up and down Florida's driveways bringing us the things we need – groceries, takeout food, packages, and more – there's always a risk of dog bites.
And now, during the COVID-19 pandemic, there's an increased reliance on these citizen drivers. Thousands of newly-hired delivery drivers are working for Instacart, goPuff, DoorDash, Grubhub, UberEats, and lots of other home delivery services. So what happens when a dog unexpectedly rushes out of the house and clamps onto the delivery driver's leg?
Delivery Drivers are at Risk of Dog Bites
These situations happen every day. Dogs bite 4.5 million people in the U.S. every year and Florida has the unfortunate honor of being #2 in the nation for the number of annual dog bite injuries.
Anyone who delivers packages to peoples' homes is at risk. In fact, food delivery drivers may be at an even higher risk than package drivers because a package can be left by the door, but a food order often needs person-to-person interaction. That creates the opportunity for a dog to dash out the door and attack.
Here's another complicating factor: Delivery drivers often aren't employees. Many of these delivery companies consider their drivers to be independent contractors, which means they won't give you much support.
After a Bite, Know Your Rights
If you're delivering pizza, packages, groceries, or other goods and someone's dog attacks you, here's what to do next.
Seek safety from the dog in your car or another safe place.
Call for emergency medical assistance.
Keep your wounds covered and limit bleeding until help arrives.
Take photos of your injuries, both before and after medical care if possible.
Keep all medical records related to your injuries and any missed work.
Report the incident to the police and request documentation.
Notify the dog's owner that you were injured but don't argue with them or get into an extended conversation.
Contact a Florida dog bite lawyer as soon as possible.
Florida places a limit on the amount of time you have to sue after a dog attack. In our state, the time limit is usually 4 years from the date of the incident. Although that might seem like a long time, waiting is a bad idea.
As time passes, memories fade and you could lose your opportunity to gather the evidence you need to win a lawsuit. Right after the attack, there may be a neighbor who witnessed it and would be willing to give a statement. But years afterward, they may forget what happened, be persuaded by the dog's owner not to talk about it, or even move away and lose contact.
Talk to a dog bite lawyer as soon as possible to begin building your case. A good dog bite lawyer will only charge you for their services if you win, which gives them a huge motivation to develop an airtight case for compensation.
Important Things You Should Know About Florida Dog Bites
Florida delivery driver should keep a few things in mind. First, the delivery company probably won't be much help if a dog bites you, especially if you're an independent contractor. Instead, you'll have to put the responsibility on the dog's owner, who may need to make a claim on their homeowner's insurance.
Second, you have a right to sue for compensation when someone's dog attacks you. Florida is a "strict liability" dog bite state, which means owners are held responsible for their dogs' actions even if the animal never showed any signs of viciousness before.
Finally, we'd like to reassure you that it's definitely worthwhile to sue over a dog bite. In fact, it's often the only way to cover your medical bills and prevent the incident from destroying you financially. We've seen cases where people win $100,000, $1 million, or more in dog bite compensation.
Hold the dog's owner responsible for their animal's impact on your life. If you're bitten by a dog while working as a delivery driver, contact Kemp, Ruge & Green for a caring and compassionate discussion about your legal options.
When Results Matter, Call Kemp, Ruge & Green of Tampa Bay
When you have legal questions, connect with a Tampa Bay lawyer. The attorneys at Kemp, Ruge & Green Law Group handle many areas of personal injury law , including those related to COVID-19 and dog bites. We believe you should only have to work on getting well, while we worry about using the justice system to protect your rights. We give our clients the best possible results-driven service. You pay us only if we win in injury cases. Call 877-941-4878 today for a free consultation.
Contact Us
About Your Case
We're ready to fight on your behalf. Request a free, no-risk consultation with our attorney's today.