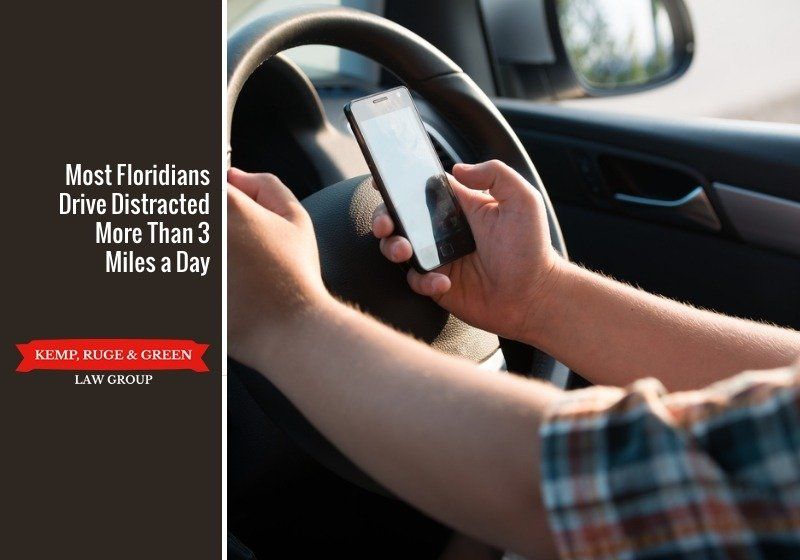 Key Points of This Article:
You probably drive distracted by your phone every day; you just don't realize how far you will drive in just five seconds of distraction.
Evenings at five o'clock is the worst hour for distracted driving, when more than 12 minutes are spent distracted in that hour.
Find out what to do after a car crash and how to find power and peace of mind in the aftermath.
Do you glance at your phone sometimes while driving? If so, you're a lot like most of us in the United States. American drivers spend a significant amount of time on the road distracted by smartphones. 
For instance, the average person in Florida likely spends about 6.5 minutes actively using one every time they drive. And while they're distracted by something on their phones, they've also driven at least 3.3 miles. It adds up to miles and miles when drivers are barely keeping an eye on the road.
It all gets totally serious about five o'clock every evening, when distracted driving time doubles, ratcheting up to 12.6 minutes during the hour – the most throughout any day.
It's common to spend about 2.6 minutes on hands-free calls, 1.5 minutes on handheld calls and two minutes otherwise tinkering with your phone during each car ride. These stats don't even include the time you may be texting, checking GPS driving directions or doing anything else that distracts drivers, like eating breakfast, drinking coffee, talking to passengers, shaving or applying make-up. And the average person takes about four car trips during the day. 
Let all this sink in for a moment. That's a lot of distracted driving time, and all it takes for an accident is a millisecond of distraction.
Road Risks in the Tampa Bay Region
Glancing at a text message takes your eyes off the road for about five seconds. If you're traveling 55 miles per hour, that's like driving with your eyes closed for the entire length of a football field.
Just five seconds' worth of distracted driving also seems like, well … like you only took your eyes off the road for a moment. Know this can come with dangerous consequences. About 3,100 Americans die every year due to distracted driving and tens of thousands more are injured. In Florida, about 388,000 auto accidents happen every year and in 2018, 234 resulted in fatalities attributed to driver distraction.
Sometimes a driver is so accustomed to glancing at their phone, they don't even recall doing it just prior to a crash.
What to Do After a Crash
If you've been involved in a car accident, especially one that could be caused by distracted driving, take these important steps immediately afterward, whether you think you're at fault or not.
Stop. Never leave the scene of an accident.
Get help. Call 911 and/or the police to report the incident and any injuries.
Stay safe. At the scene of the accident, ensure you're not in harm's way or impeding traffic. 
Gather evidence. Take photos. Exchange contact and insurance information with the other driver or drivers. Say as little as possible to anyone involved in the accident – drivers, passengers and onlookers. Stay calm as you interact with the police.
Contact an attorney. Work with a Tampa Bay car accident attorney who will help you protect your rights and hold the right person accountable for the accident.
Finding Power and Peace of Mind In Tampa Bay
Understand this about the aftermath of an auto accident: Personal injury attorneys usually help you on a contingency-fee-basis, where you are not charged unless you win a settlement for your injuries. 
This comes as a huge relief after a traumatic accident that has affected you physically, emotionally and financially. With the right legal assistance, you have the power to pursue injury compensation without worrying about what it will cost, so you can move forward with your life.
When Results Matter, Call Kemp, Ruge & Green of Tampa Bay
Regardless of the reason for your injury, if someone else caused it, the only way you can recover from your medical bills and other losses is through a personal injury claim. The attorneys at Kemp, Ruge & Green Law Group handle many areas of personal injury law, including car accidents. We believe you should only have to work on getting well, while we worry about using the justice system to protect your rights. We give our clients with the best possible results-driven service. You pay us only if we win in injury cases. Call 877-941-4878 today for a free consultation.
Contact Us
About Your Case
We're ready to fight on your behalf. Request a free, no-risk consultation with our attorney's today.