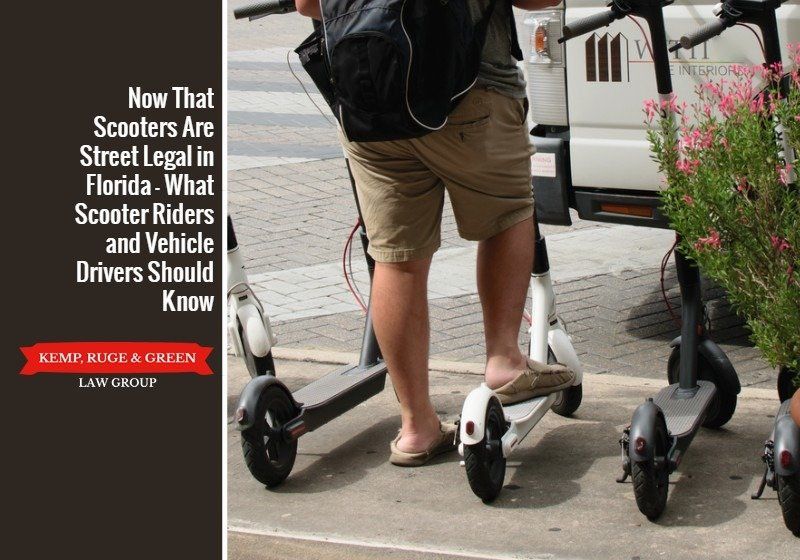 Key Points of This Article:
A new bill legalizes electric scooters across the state of Florida as a result of a year-long pilot program in Tampa.
Each Florida city has the authority to regulate scooters.
Scooters can be dangerous and unpredictable, so it's important to understand local regulations and drive/ride safely.
Do you know electric scooters are now street legal across the state of Florida? After a year-long Tampa pilot program, Governor Ron DeSantis signed HB 453 into law, which makes scooters legal to drive on streets and bike lanes. Previously, they were limited to operation only on sidewalks.
The new law gives authority to city governments to regulate the scooters and even ban them completely. Many cities are already banning them. Clearwater and Orlando are among the cities in Florida that enacted temporary bans while evaluating whether scooters are worth the risks to public safety.
In New Port Richey, local legislators passed an ordinance to make scooters legal. New Port Richey officials require that they're returned to a central station by 8:30 p.m. each night. Hopefully, this effort will prevent people who use the scooters from leaving them haphazardly around the city once they're finished riding them, which has been a huge issue in other scooter-friendly cities.
What's The Controversy About Scooters and Why Is It Heating Up?
Scooters are controversial in our area for a number of reasons:
They're dangerous for inexperienced riders
Few riders wear helmets
They can cause a hazard for people who use wheelchairs, those with limited mobility and really anyone who uses public sidewalks, parks and buildings
Riders often are not familiar with usage rules and vehicles drivers also uncertain about traffic laws
In addition, Scooters are easily tossed willy-nilly into public areas and it's difficult to force the scooter companies to deal with this persistent issue.
Scooters are also a nightmare in terms of legal liability for drivers. Imagine this scenario. What happens when you, as a motorist, approach a person on a scooter bobbing and weaving in and out of traffic? What happens if you clip them unintentionally? Is it your fault? Many drivers are confused about how to share the road with scooters, and scooter riders themselves don't always know the rules.
During a five-month period in Ft. Lauderdale, 57 scooter accidents and 10 serious injuries were reported. Ft. Lauderdale officials are currently reevaluating whether to keep them on their streets at all.
Things to Know About Scooters in Florida
As the law evolves regarding scooters in our state, here are some things to keep in mind:
Generally speaking, scooters are now permitted to ride in Florida's streets and bike lanes.
Each city government makes its own rules, including banning scooters.
Scooter riders, vehicle drivers, bicyclists and pedestrians are expected to share the road and operate according to state and local laws.
Scooter riders must observe posted speed limits as well as limits imposed by local governments.
When abandoning scooters, users should avoid leaving them in public access areas like sidewalks and doorway entrances and should follow all local regulations about scooter parking.
After a Scooter Accident, Empower Yourself Through Legal Protection
Of course, scooter riders don't always follow the law and neither do vehicle drivers. There are plenty of close-calls and collisions happening on our streets every day. Although we don't yet have a comprehensive state-wide study of scooter accidents, both motorcycle and moped accidents are on the rise in Florida. That doesn't bode well for scooters.
If you are ever involved in a scooter accident in the Tampa Bay area, you'll need the help of a personal injury lawyer who is very familiar with scooter laws in Florida and in scooter-friendly cities. The controversy surrounding scooters, plus the widespread confusion about the law, makes this a tricky issue to navigate on your own.
When Results Matter, Call Kemp, Ruge & Green of Tampa Bay
Regardless of the reason for your injury, if someone else caused it, the only way you can recover from your medical bills and other losses is through a personal injury claim. The attorneys at Kemp, Ruge & Green Law Group handle many areas of personal injury law like auto accidents involving scooters. We believe you should only have to work on getting well, while we worry about using the justice system to protect your rights. We give our clients with the best possible results-driven service. You pay us only if we win in injury cases. Call 877-941-4878 today for a free consultation.
Contact Us
About Your Case
We're ready to fight on your behalf. Request a free, no-risk consultation with our attorney's today.