Florida Motorcycle Accident Lawyers
Are you a Florida motorcyclist? If you've been injured in an accident, we'll help you get the resources you need to get back on the road.
Each year, more than 8,000 motorcycle crashes happen in the state of Florida. Almost 500 of those accidents result in fatalities and thousands more cause serious injuries.
Any motorcycle wrecks and crashes can be catastrophic because the body of the biker is so much more exposed than any other type of driver on the road. Common injuries to motorcyclists include road rash, burns, broken bones and concussions.
Motorcycle accident cases can also result in severe head injury and brain trauma. Florida does not have a helmet requirement for people over age 21 with insurance while among the public, widespread confusion over this law still lingers. After a motorcycle accident, the finger-pointing and misunderstandings that result can make it difficult to determine who's at fault.
You Deserve a Great Team
Kemp, Ruge & Green Law Group is the legal partner you can trust in the tumultuous time after a motorcycle injury. We understand that you may have lasting physical and emotional damage from the crash. We are experienced Tampa motorcycle accident lawyers who will be on your side, standing up for your rights and helping you fight for the resources you need to heal after your accident.
Our clients agree:
"This law firm has been nothing short of amazing during their time that they represented me in an accident case. From the beginning, they were very informative, knowledgeable, empathetic, and compassionate. They were always very responsive to any questions or needs that I had throughout the process. I have spoken several times on the phone with Kelly Cook, Stacy Kemp, and Stephanie at which times they checked in with my medical condition and offered legal advice. Never did I feel pressured to make certain decisions or feel like I had no control over the situation. They are all truly there to advocate and represent your best interests. When the time for my settlement approached, they fought to make sure that all of my expenses were paid for and that I received a settlement that I was happy with. I would recommend this law group to anyone."
-Jenny Lebron
"The Kemp, Ruge & Green Law Group was fantastic with handling my auto injury case. They were there for me and my family throughout the whole horrible ordeal. They assisted with everything from helping me get a rental car, getting my car fixed and helping me find the best medical care so I could heal. They assured me that they would handle all the details so I could focus on getting better and getting my life back to normal. Attorney Alyssa Ruge was able to recover more than we ever expected and my paralegal, Sommer St. Croix, was awesome. Sommer was always available to answer any questions I had and she has a wonderful, caring personality that put me at ease whenever I needed assistance."
-Name Withheld
You Deserve Communication
You Deserve Answers
After your motorcycle crash, someone may blame you for the accident or you may be confused about your legal options. Your insurance company, or the other driver's insurance company, may try to get you to settle fast for less than you deserve. Don't be fooled. You need a motorcycle accident attorney who is on your side.
We will always provide open, honest communication that respects a motorcyclist's point of view. We will help you seek answers to questions like:
You Deserve Kemp, Ruge & Green
In Florida each year, 500 motorcycle drivers and 40 motorcycle passengers are killed on the road. Another 5,500 drivers and 500 passengers are injured, with more than 2,000 of injuries are described as incapacitating by a medical professional.
If you are one of the Florida motorcyclists who has suffered serious injuries, or you are a concerned loved one of someone who has been in a crash, you are probably concerned about your legal options. The trauma of an accident can cause life-altering physical and emotional damage that requires months or years of recovery.
Who will pay for the medical bills? What about repairing the bike? How will you cope with time off work and lost wages? You'll likely have so many stressful things to consider.
At Kemp, Ruge & Green, our Tampa motorcycle accident attorneys understand the devastation of motorcycle accidents. Our Tampa Bay area attorneys are well-trained to deal with the insurance companies, the other driver, the authorities and other parties involved in your crash. We've gone up against nearly every insurance company in the business, and we've earned our clients million-dollar judgments.
In fact, our attorneys have won large, complex cases as members of the prestigious Million Dollar Advocates Forum and the Multi-Million Dollar Advocates Forum. Fewer than 1% of all attorneys nationwide gain this high distinction in the legal world. We're not only part of an elite class of lawyers, Kemp, Ruge & Green Law Group is a true legal powerhouse in the state of Florida.
If you live in the Tamps Bay region, including Hillsborough, Pasco, Pinellas and Hernando Counties, you can expect results from the personal injury attorneys at Kemp, Ruge & Green Law Group. When you're our motor vehicle or motorcycle accident client, you'll benefit from our 100% customer focus. We always work in your best interests, keeping the lines of communication open and ensuring you get the best result possible. We're here for you after your motorcycle crash. Call us, text us or reach out to us today to discuss your case.
Start a Free Motorcycle Accident Consultation
NO FEE UNLESS YOU WIN
Call 1-727-835-8327 anytime – 24 hours a day, 7 days a week for Free Consultation.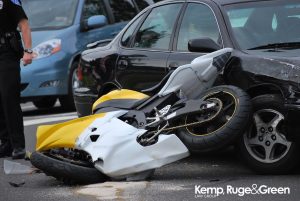 Contact Us
About Your Case
We're ready to fight on your behalf. Request a free, no-risk consultation with our attorney's today.