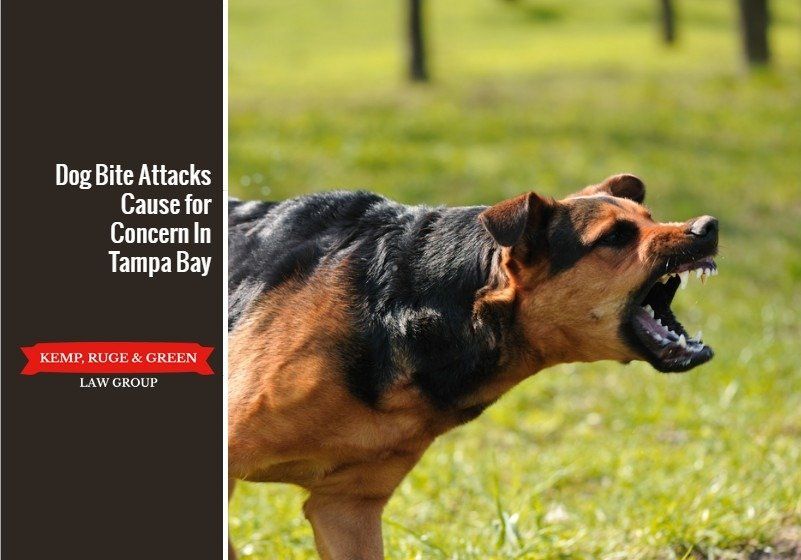 Key Points of This Article:
Dogs of all breeds, sizes and temperaments can attack unexpectedly.
Tampa Bay has seen some high-profile dog bite cases lately, with large settlements.
You can't control how the authorities handle the dog and its owner, but you can control how you react to the incident.
Imagine taking a stroll through your neighborhood on a beautiful Florida evening. What looks like a cute dog is running down the sidewalk toward you. You don't know this dog or perhaps you do.
Next thing you know, the dog has latched onto your ankle, biting through your skin into your bone with amazing force. Struggling from the unexpected attack, you call 911 for help and an ambulance arrives. Your next few weeks are full of pain and doctor visits. 
Now what? Not only do you have medical bills as a result, your life is shaken up. About 4.5 million Americans find themselves in this situation every year -and each year about 1,300 dog bite victims in Florida alone have injuries that are serious enough to involve insurance claims.
What can be astounding is the average cost per dog injury claim in Florida. It is quite a bit higher than the national average at a staggering $43,893.
Even the Gentlest Dogs Can Attack
Dog owners commonly say, "My dog's never bitten anyone before!" after a biting incident. They often insist their dogs are friendly and gentle, which could be true -although all it takes is one uncertain moment and an otherwise gentle dog can unexpectedly attack.
Here's an interesting statistic: There is one dog bite victim for every 17 dogs in the U.S., according to the South Florida Sun-Sentinel. More than half of all dog bite injuries occur at home with dogs familiar to the person who suffers the attack.
Although certain breeds tend to do more physical damage than others, dogs of all breeds, sizes, ages and temperaments can cause severe bite injuries. Even small puppies cause deep bite wounds, especially in young children. Kids between ages five and nine are at the highest risk of dog bite injuries, according to the Center For Disease Control (CDC). Those under age five are at the highest risk of severe facial lacerations.
Dog Attacks Constantly Make Florida Headlines
In Florida, we've recently seen a rush of local news stories about dog bite attacks, many involving beloved family pets and even well-trained police dogs.
Here in Tampa Bay, taxpayers are bearing the costs of local police dog injuries. Since 2016, local taxpayers have shelled out $1.8 million to repay innocent people for dog bites they suffered during police K-9 incidents. For instance, a man was speaking to an officer during a traffic stop in Hillsborough County recently when a police dog attacked him without warning. David Haire, who uses a cane due to an earlier leg amputation, fell to the ground and suffered severe arm and shoulder injuries. He sued the county for $50,000 and won. The police immediately retired the dog, Stryker, from the force.
In another recent incident, a Pasco County sheriff fought off a pack of aggressive dogs. A group of three adult bulldogs and two puppies surrounded a 15-year-old boy at a school bus stop and bit the boy on the leg. The pack moved on to an elderly man in his yard, biting both of his legs. The sheriff eventually intervened, shooting one of the dogs. The dog pack then turned on the wounded dog and mauled it.
These incidents that occurred in the Tampa Bay area illustrate the ferocity of a dog attack and how unpredictable dogs can be. Nobody wants to find themselves on the wrong end of a dog's razor-sharp teeth.
You Control Your Reaction to a Dog Bite Incident
The best way to protect yourself from a dog bite -and the aftermath- is to take precautions to avoid dog bite injuries. Understanding our laws is one precaution.
Florida has a strict liability dog bite law, which means the dog owner "is liable for the damages suffered by persons bitten, regardless of the former viciousness of the dog or the owners' knowledge of such viciousness." 
The dog's owner can be assigned penalties including fines and temporary animal confiscation. If the dog has previously been declared dangerous, the owner can be subject to criminal charges after a second incident. This could include permanent confiscation of the animal and, in the event of a severe or fatal bite, third-degree felony charges.
If you're bitten by a dog, stay calm and call 911 for emergency help. Save all documentation you receive related to the injury, including medical bills and police reports. Contact a Tampa Bay dog bite attorney as soon as possible to discuss your legal rights and your options for pursuing compensation for your injuries.
You can't control how the authorities handle the dog and its owner, but you can control how you react to the incident. With the right legal guidance and expert medical care, you can begin to recover from a dog bite and hold the right person responsible for their dog's behavior.
When Results Matter, Call Kemp, Ruge & Green of Tampa Bay
Regardless of the reason for your injury, if someone else caused it, the only way you can recover from your medical bills and other losses is through a personal injury claim. The attorneys at Kemp, Ruge & Green Law Group handle many areas of personal injury law, including dog bite injuries. We believe you should only have to work on getting well, while we worry about using the justice system to protect your rights. We give our clients the best possible results-driven service. You pay us only if we win in injury cases. Call 877-941-4878 today for a free consultation.
Contact Us
About Your Case
We're ready to fight on your behalf. Request a free, no-risk consultation with our attorney's today.