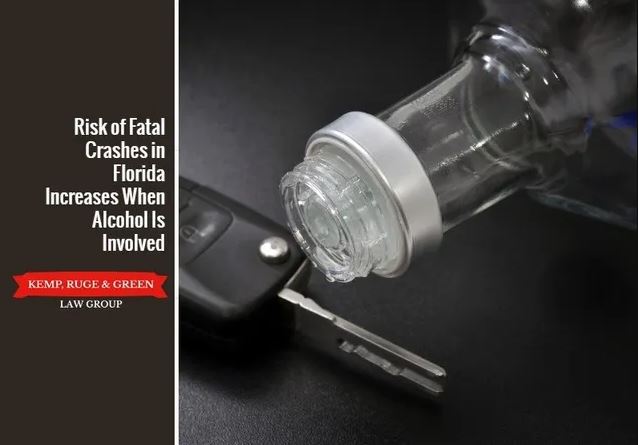 Key Points of This Article:
Driving drunk increases the risk of a fatal car crash.
A driver and his passenger were killed on impact after a recent local rollover crash involving alcohol.
You deserve to protect your rights and take legal action after a crash.
It's every driver's worst nightmare: A drunk driver is speeding at you head-on, going the wrong way down the road. You have just moments to react. What happens next could affect the rest of your life or even cause your death.
Every year, more than 5,000 drunk driving crashes occur in Florida. About 350 of those crashes involve fatalities. Drunk driving dramatically increases the odds of causing a car crash because alcohol impairs a driver's ability to see straight, concentrate and make rational decisions. It also causes drowsiness and impulsive behavior, making a drunk driver's actions hard to predict.
Wrong-Way Drunk Driver and Passenger Die During Crash
A recent fatal car crash near Ybor City shows just how dangerous drunk drivers can be to themselves and others on the road. On North 15th Street near East 21st Avenue, bystanders saw Roberto Diaz drive his Ford F-150 the wrong way down the street and hit a series of parked cars.
After traveling several more moments at high speed, Mr. Diaz's truck hit a Cadillac that was making a legal left turn, flipped after the impact and landed on its roof. Emergency responders used the "jaws of life" to cut Diaz and his passenger, Alejandro Ocampo, out of the truck.
Tampa Bay Police pronounced both men dead at the scene. Neither was wearing a seat belt and police determined that alcohol could be a factor in the crash. Luckily, all other drivers and bystanders nearby, including the Cadillac driver, had only minor injuries or were unharmed.
DUIs, Negligence and Florida Laws
In Florida, any driver with a blood-alcohol level (BAC) of .08% or more is guilty of a "per se" DUI, Driving Under the Influence. This includes driving the vehicle down the road as well as being in actual physical control of the vehicle, which may include idling at a red light or sitting in a parking lot with the vehicle running. It could even include sleeping in your car while drunk.
The penalties for a DUI in Florida escalate from fines and pretrial diversion programs for the first offense to felony charges and up to 12 months in jail for the third offense. Offenders may lose their cars, are required to use an ignition locking device, attend classes, perform community service and have their driver's licenses revoked for periods of time.
The victims can also sue a drunk driver for their actions, including causing a car accident, hitting them while they were a pedestrian, causing property damage and doing other destructive things while driving under the influence. In some cases, victims can even allege intentional misconduct or gross negligence if the drunk driver purposefully did something to cause harm or showed a reckless disregard for human life.
At Kemp, Ruge & Green, our clients have reached high-dollar settlements in vehicle accident cases, including values from $500,000 to $1.1 million depending on the exact circumstances. Settlements in drunk driving negligence cases tend to be high because the drunk driver has demonstrated their lack of regard for the law and for the safety of Florida's citizens.
After a Crash, Act Confidently
If you're in a crash caused by a drunk driver, it can be a terrifying experience. However, you can empower yourself to take control of the situation by remaining calm and knowing your rights under Florida law.
In the moments after the crash, seek emergency help by dialing 911. Avoid engaging directly with the drunk driver, whose actions may be extremely unpredictable and dangerous due to their level of intoxication. Local police will deal with the drunk driver.
If you are physically able to do so, capture the scene in photos and gather all documentation you receive from the authorities. As you receive medical treatment, save this paperwork, too and document any missed work you have due to the accident.
Contact a Tampa Bay personal injury attorney as soon as possible to discuss the drunk driving accident and how to pursue compensation for your injuries and other damages. By holding drunk drivers responsible for their actions, the citizens of Florida can help make our roads safer for everyone.
When Results Matter, Call Kemp, Ruge & Green of Tampa Bay
Regardless of the reason for your injury, ifsomeone else caused it, the only way you can recover from your medical billsand other losses is through a personal injury claim. The attorneys at Kemp,Ruge & Green Law Group handle many areas of personal injury law like auto accidents as wellas criminal law like DUI. Webelieve you should only have to work on getting well, while we worry aboutusing the justice system to protect your rights. We give our clients with thebest possible results-driven service. You pay us only if we win in injurycases. Call 877-941-4878 today for a free consultation.
Contact Us
About Your Case
We're ready to fight on your behalf. Request a free, no-risk consultation with our attorney's today.