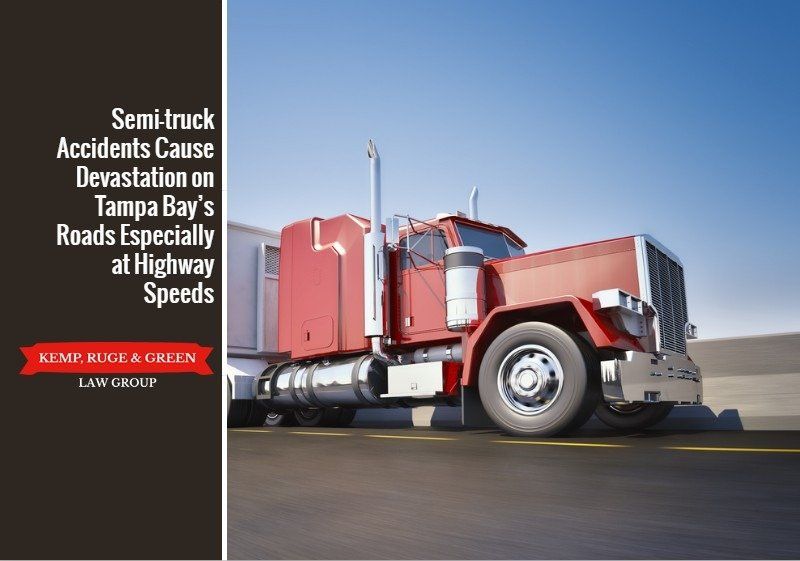 Key Points of This Article:
People perish in at least 300 accidents involving a semi-truck every year in Florida.
A recent eight-car collision on I-75 shows just how dangerous semi-truck accidents can be.
If you're injured in a truck accident, protect your future by holding the right people responsible and getting the compensation your deserve.
In Florida, people perish in at least 300 crashes that involve a semi-truck every year. Semi-truck accidents are some of the most dangerous on our roads and they are happening more and more,
Why are semis so risky on the road? Some of it is just plain physics. These monstrous trucks weigh between 40,000 and 80,000 pounds and travel 55 to 70 miles per hour on Tampa Bay highways. A typical passenger car, at about 5,000 pounds, is simply no match.
Another danger for Florida motorists is truck driver error, whether it's from drowsy driving, texting while driving, dangerous driving maneuvers, driver fatigue, drunk driving or another form of distracted driving. Just a millisecond of inattention on the road -for truck drivers as well as any driver- can have devastating consequences.
Eight Vehicles Involved in Interstate 75 Crash 
On November 14, 2019, a semi-trailer driver on Florida's Interstate 75 couldn't stop his truck in time to avoid heavy traffic. He smashes into a lineup of cars, killing himself and another driver. According to the Florida Highway Patrol (FHP), the semi driver hit multiple vehicles, rammed into a roadway sign pillar and came to rest on the outside shoulder of the highway.
In total, the semi driver hit or caused the collisions of at least eight other motor vehicles. The crashes were catastrophic and fiery, requiring specialized help from the fire department and several other emergency crews to dismantle vehicles and rescue all of the injured people from deep within the crash shrapnel.
Just prior to the crash, nearby vehicles had been slowing for a traffic jam ahead. The semi-trailer driver failed to stop for an as-yet unknown reason, causing a cascading crash among many vehicles that were either traveling slowly or at a complete stop.
After hours of cleanup and investigation, I-75 reopened to regular traffic around 7 a.m. the same day. However, FHP continues to investigate this accident and is asking any witnesses who saw firsthand what occurred in the moments before the crash to come forward with information.
Why Semi Crashes Differ From Most Crashes
In a typical road crash between two passenger vehicles, two drivers and two insurance companies are involved. The police will write a report and the insurance companies will decide who's to blame.
In a large truck crash with a semi-truck, the traffic accident paperwork is done a little differently. The truck driver is likely working for a trucking company, which has its own insurance provider and follows certain company procedures after a crash. The trucking company might stand behind their driver and accuse you of being at fault for the crash.
After a collision with a commercial truck driver, you may get a call from the trucking company's insurance carrier. They may pressure you to sign documents that aren't in your best interest or they might offer you a dollar settlement that doesn't even cover the cost of your basic medical bills.
Not so fast. If this happens, it's important to know what you should do after an accident with a semi-truck, understand your rights and stand up for yourself.
After a Semi-Truck Accident, Hold the Right People Accountable
You have the power to stand up to the trucking company. In the aftermath of a truck accident:
Don't let the trucking industry company fool you into thinking they and their driver couldn't possibly be at fault. According to the Federal Motor Carrier Safety Administration, the top causes of trucking accidents are failures to maintain truck brakes and systems, traveling too fast for road conditions, drug use, fatigue, illegal maneuvers and inattention.
If they offer you a settlement check, keep in mind that it's unlikely to cover the many costs you'll be facing, including lost wages, vehicle damage and medical bills incurred over time.The authorities may or may not decide to press criminal charges against the truck driver. Either way – even if the driver goes to jail – you're still left with a stack of bills, plus months of pain and suffering.
Often, the only way to place the blame where it belongs is to file a personal injury lawsuit against the trucking company and make them pay for their trucker's actions.
With the help of a Tampa Bay truck accident lawyer, you can get to the bottom of the situation and seek the compensation you deserve. We hope you are never involved in a collision with a semi-truck or have to experience the dangers and devastation, but if it happens, we encourage you to hold them responsible, which helps to promote safety on Florida's roads at the same time.
When Results Matter, Call Kemp, Ruge & Green of Tampa Bay
Regardless of the reason for your injury, if someone else caused it, the only way you can recover from your medical bills and other losses is through a personal injury claim. The personal injury lawyers at Kemp Law Law Firm handle many areas of personal injury law like truck accidents. We believe you should only have to work on getting well, while we worry about using the justice system to protect your rights. We give our clients with the best possible results-driven service. You pay us only if we win in injury cases. Call 877-941-4878 today for a free consultation.
Contact Us
About Your Case
We're ready to fight on your behalf. Request a free, no-risk consultation with our attorney's today.