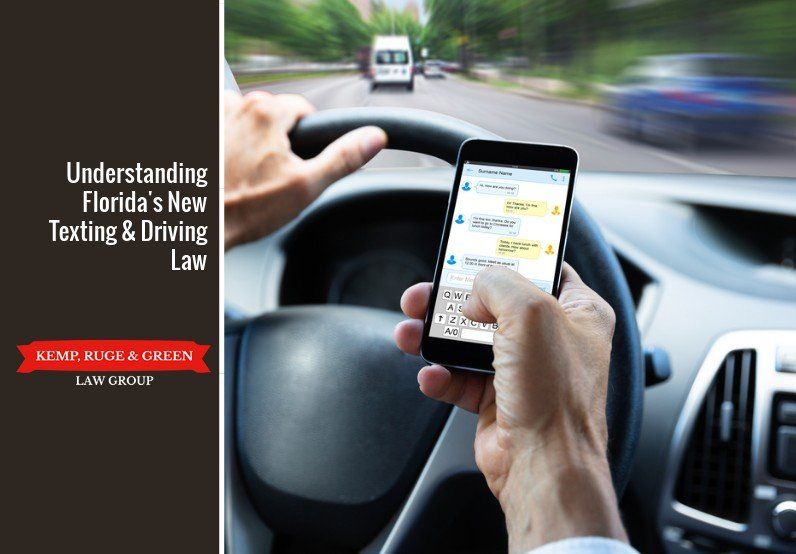 Key Points of This Article:
Florida passed a new texting and driving law with a warning period for drivers until the end of 2019. The full law takes effect January 1, 2020.
Under the new law, a Tampa Bay police officer can't take your phone from you without a warrant.
Accidents are the number one cause of deaths in Florida and distracted driving is a major contributor to car accidents and the injuries they can cause.
How much texting and driving is allowed in Florida?
A new law has Florida residents debating what's truly legal. So let's start by looking at what the law actually says, then go through what's causing confusion.
Recently, Florida passed a law that bans all forms of digital communication while driving. In the language of the law, what's specifically banned is "typing or entering multiple letters, numbers, symbols or other characters into a wireless communications device or while sending or reading data on such a device for the purpose of nonvoice interpersonal communication."
The law is intended to address one of the most common causes of deaths in Florida: accidents. Every year in the Sunshine State, about 400,000 auto crashes and distracted drivers cause about 230 deaths, 3,000 incapacitating injuries and 12,000 other injuries.
Warning: When, Where and Whether You're in Motion Matters
Here's where the new law can cause confusion for residents of the Tampa Bay region. The new texting and driving law doesn't take effect until January 1, 2020. Lawmakers have established a warning period that lasts until the end of this year to help Florida drivers adjust to the change.
Until December 31, 2019, Tampa Bay police officers are issuing warnings when they catch drivers using handheld devices only in school zones and construction zones. Beginning January 1, 2020, police will issue tickets for the use of devices while driving on all Florida roads.
We point out this technicality in the law you might not realize.
It matters if your vehicle is in motion whether you receive a ticket or not. According to the exact wording of the law, "a motor vehicle that is stationary is not being operated and is not subject to the prohibition." If you are issued a ticket while you're stopped at a red light reading texts on your phone, there's a chance of fighting it because your car is stationary.
Other exceptions might allow you to fight a ticket under certain conditions. For example, the use of hands-free technology like Bluetooth, which supports conversation without holding a device, is still allowed under the new Florida law. The law allows the use of vehicle GPS navigation that is read aloud by your vehicle as well as an exception for weather and safety broadcasts that could keep you safe in an emergency.
If you receive a ticket for violation of the Florida texting and driving law, the first violation is a fine of $30 and a point off your license. For another violation within five years, it will cost you $60 and three points off your license.
A Tampa Bay Police Officer Can't Take Your Phone Without a Warrant
We'd like to remind you of your rights under Florida law. Always remain peaceful and lawful in your interactions with officers and keep these things in mind:
The 2020 Florida texting and driving law specifically prohibits a police officer from demanding to see what's on your device without a warrant.
Officers are also not allowed to keep your phone from you while waiting on a warrant.
Officers may not coerce or deceive you into giving up your phone.
You have the right to decline a search and an officer is required to notify you of this right.
If you choose to hand over your phone it must be totally "voluntary and unequivocal" under the law.
Accidents Number One Cause of Deaths In Florida
A recent mapping of common causes of death in the United States reveals Florida as one of six states where accidents cause the most deaths, other than health-related causes like heart disease and cancer. Currently, distracted driving is a major cause of car accidents and the injuries they can cause. What is one of the major causes of distracted driving? Texting.
Remember, if you are injured in an accident related to distracted driving, you deserve expert legal help. Protect your rights and get the resources you need to move forward. The personal injury car accident lawyers at Kemp, Ruge & Green Law Group understand Florida's new texting and driving and car accident laws and will help you without charging fees unless you win a settlement for your injuries. With the right legal assistance, you are empowered to pursue injury compensation without worrying about the cost, so you can heal from your injuries with a peace of mind.
When Results Matter, Call Kemp, Ruge & Green of Tampa Bay
Regardless of the reason for your injury, if someone else caused it, the only way you can recover from your medical bills and other losses is through a personal injury claim. The attorneys at Kemp, Ruge & Green Law Group handle many areas of personal injury law, including distracted driving cases and car accident injuries. We believe you should only have to work on getting well, while we worry about using the justice system to protect your rights. We give our clients the best possible results-driven service. You pay us only if we win in injury cases. Call 877-941-4878 today for a free consultation.
Contact Us
About Your Case
We're ready to fight on your behalf. Request a free, no-risk consultation with our attorney's today.