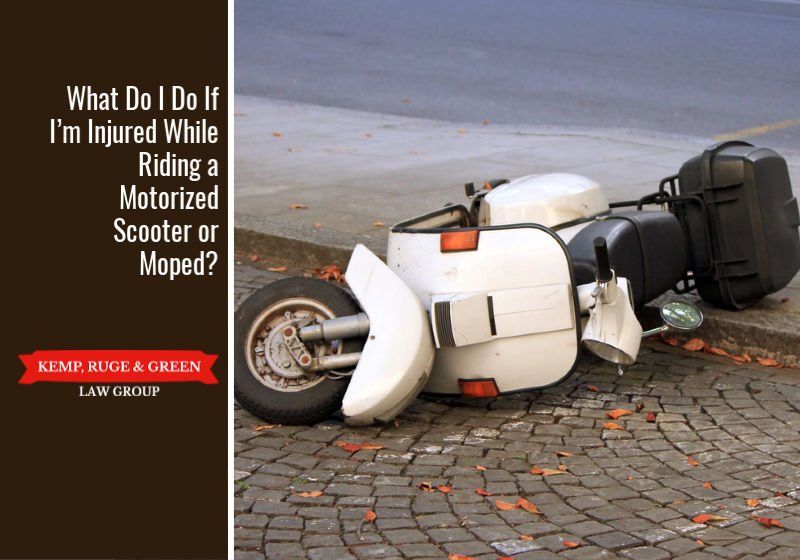 Key Points:
The use of motorized scooters and mopeds in Florida is on the rise thanks to their accessibility and the culture of tourism in the state.
Injuries involving motorized scooters and mopeds are severe thanks to the low rate of helmet usage and lack of personal protection compared to accidents involving other vehicles such as cars or trucks.
Find out what to do if you've been injured on a scooter or moped and how to empower yourself so you can heal and move forward.
The use of motorized scooters and mopeds in Florida is on the rise, and unfortunately, the number of accidents resulting from the use of these is increasing too.
The number of head and facial injuries alone has tripled just in the last decade, and the number of serious head injuries caused by an electric scooter is double the number of serious head injuries caused by bicycle accidents.
The use of motorized scooters and mopeds is skyrocketing because they are economical and enjoyable methods of transportation, but the dangers are as real as the benefits. Riders are frequently injured when they collide with cars, trucks, trees, telephone poles and other road hazards. Even careful drivers may not be seen until it is far too late.
What should you do if you are injured while riding a motorized scooter or moped?
Moped and Scooter Risks While on the Road
There's a reason that scooters have been referred to as "fast, cheap, and out of control," and it's thanks to the 20 injuries that occur out of every 100,000 trips—and mopeds are no better.
These vehicles have seen an increase in popularity in recent years, with sales up 60 percent. Mopeds and scooters even are used by young children, but they can be very dangerous, reaching speeds of 25 to 30 miles per hour.
In one study of Florida moped and scooter accidents, about 18 percent of injuries involving a scooter or moped resulted in a severe or fatal injury. This same study also concluded that around half of these cases involved a rider who was not the owner of the scooter or moped but had been renting the vehicle, which is most likely thanks to Florida's tourism industry.
The severity of these injuries is thanks to several factors. For starters, renters of mopeds and scooters may not be as familiar with vehicle operation or local traffic patterns. Also, mopeds and scooters offer far less personal protection than a car, and in only 17 percent of injuries was the affected rider wearing a helmet.New Paragraph
Because injuries following a moped or scooter accident are so severe, it's important to get the help that you need following the incident.
What to Do After You've Been Injured
An injury can be a stressful thing, which means thinking calmly and clearly may not always be so simple. If you're involved in an accident or a crash involving a scooter or moped, take these steps right away whether or not you believe yourself to be at fault.
Stop. Breathe and stay at the scene of the accident.
Get help. Call 911 and report the incident and any injuries to get the help you need.
Stay safe. Riding a scooter or a moped, you might be on or near the road, so ensure you aren't in harm's way. Be aware of oncoming traffic. If you're concerned about a spinal injury, do what you can to stay safe, but do not move the injured person.
Gather evidence. Take pictures of the scene, or if you can't do it, ask someone else to do so for you. Talk with eyewitnesses and gather contact information for involved parties and eyewitnesses. Write everything down, including involved parties' contact and insurance information and license plate numbers.
Seek medical attention. If you've been hurt while riding a moped or scooter, you should seek medical attention right away, even when you don't think your injuries warrant a trip to the doctor.
Contact an attorney. Now is the time to consult with a Tampa Bay personal injury attorney who can advise you as to what your next step should be. Protect yourself and your rights by working with an attorney who cares about your recovery and will hold the right person accountable for your injuries.
Take Charge of Your Recovery in Tampa Bay
If you've been hurt while riding a motorized scooter or moped, know this: Personal injury attorneys who care about your wellbeing, like our team at Kemp, Ruge & Green, will help you on a contingency-fee basis. You will not be charged unless you win a settlement for your injuries.
The injuries sustained on a moped or motorized scooter can be severe—and they can be traumatic. They can affect you physically, emotionally and financially. You can begin to recover by seeking out the right legal assistance to help you pursue injury compensation without the worry about what it will cost. This gives you the power to get the assistance you deserve to move past your injury and move forward with your life.
Seek out assistance from an attorney who has your best interests at heart. At Kemp, Ruge & Green, our mission is to ceaselessly pursue protecting our clients. Our whole goal is to improve our community through respect, communication and service. We care about your recovery, and we will work to do what we can to help you move past your traumatic injury.
When Results Matter, Call Kemp, Ruge & Green of Tampa Bay
Regardless of the reason for your injury, if someone else caused it, the only way you can recover from your medical bills and other losses is through a personal injury claim.
The attorneys at Kemp, Ruge & Green Law Group handle many areas of personal injury law, including moped and motorized scooter injuries. We believe you only should have to work on getting well while we worry about using the justice system to protect your rights.
We give our clients the best possible results-driven service. You pay us only if we win in injury cases. Call (877) 941-4878 today for a free consultation.
Contact Us
About Your Case
We're ready to fight on your behalf. Request a free, no-risk consultation with our attorney's today.