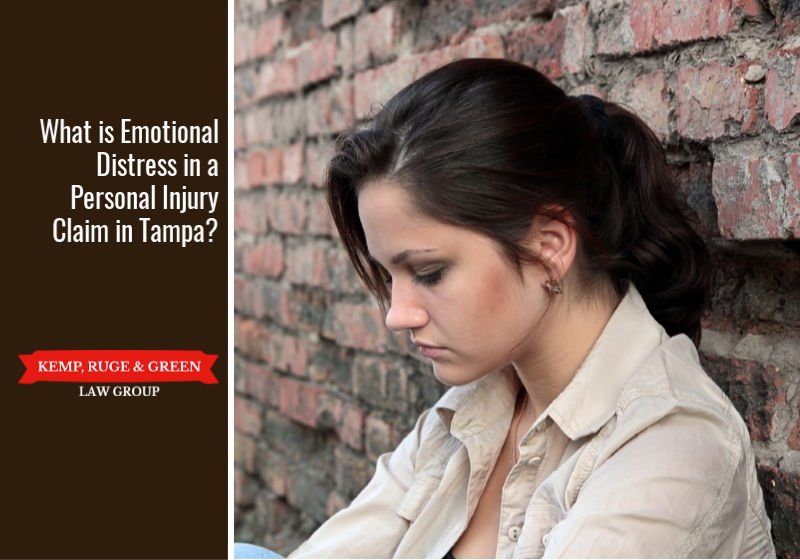 Key Points of This Article:
Compensation for emotional distress places a value on your pain and suffering.
The other party will look for ways to challenge your claim of emotional distress.
An attorney helps you get the best shot at securing compensation so you can heal from emotional trauma.
When you make a personal injury claim, you're seeking compensation from someone who harmed you. As a result of the incident, you may have hospital bills from your injuries, physical therapy costs, property damage, lost wages, and other types of economic losses.
There's also another type of loss that's non-economic and centers around your emotions. This emotional distress is known in the legal world as "pain and suffering." It may be a bit more difficult to quantify than economic damage, but it causes just as much harm – if not more. Personal injuries can come with deep, long-lasting trauma.
For example, did you know that motor vehicle accidents are the #1 cause of post-traumatic stress disorder (PTSD) in the general population? If someone injures you in a car accident, it could take years for you to heal emotionally and feel comfortable driving again.
Here's How the Law Defines Pain and Suffering
In general, "pain and suffering" refers to the distress that is directly attributable to a certain incident or accident. It is a combination of physical pain, emotional distress, and psychological trauma. Psychological trauma can manifest itself in a variety of ways, but some common forms are anxiety, depression, fear, and insomnia.
When you are suffering like this, the trauma interferes with your life and makes it difficult to accomplish ordinary, everyday tasks. Suddenly you are experiencing so much pain and suffering that it's difficult to have a normal life. You need mental health treatment but may not be able to afford it without making a claim against the person who harmed you.
Here's something important to know about personal injury claims: The other person's lawyer will challenge the idea that you were otherwise healthy beforehand. With the help of their lawyer, they may try to dig into your past and find reasons why they're not responsible for your pain and suffering.
There are Exceptions and Challenges to Pain and Suffering Claims
As you consider making a personal injury claim, there are some important factors to keep in mind. Certain situations don't allow you to recoup costs of pain and suffering at all, and other circumstances make it more challenging to win compensation for it.
If you are suing your employer, the Federal Employers Liability Act (FELA) will likely prohibit you from recovering compensation for emotional distress due to the wording of the law. Or if you are the family member of someone who was hurt or killed in an accident – but you are not the actual injured person – emotional damage compensation may not apply.
In addition, you may find it difficult to prove that you were injured as a direct result of the incident. For example, if you were already seeing a psychiatrist before a car accident occurred, the other person's lawyer might point to your ongoing psychiatric appointments as evidence that their client's actions weren't the actual cause of your mental trauma.
Empower Yourself with a Personal Injury Claim
As you can see, it can be challenging to prove that you deserve compensation for your pain and suffering. But don't give up and don't let anyone bully you into staying silent. This is exactly why the world has personal injury attorneys – to give you a voice in the legal system, especially after the life-changing trauma of an accident.
A personal injury lawyer will listen to your story and give you the best shot at winning compensation. They'll also help you prevent a legal misstep that costs you the case and causes you even more mental anguish. With the help of a personal injury lawyer, you can heal from your accident and find renewed peace of mind.
When Results Matter, Call Kemp, Ruge & Green of Tampa Bay
After an injury with emotional distress, connect with a Tampa Bay personal injury lawyer. The attorneys at Kemp, Ruge & Green Law Group handle many areas of personal injury law, including emotional distress. We believe you should only have to work on getting well, while we worry about using the justice system to protect your rights. We give our clients the best possible results-driven service. You pay us only if we win in injury cases. Call 877-941-4878 today for a free consultation.
Contact Us
About Your Case
We're ready to fight on your behalf. Request a free, no-risk consultation with our attorney's today.