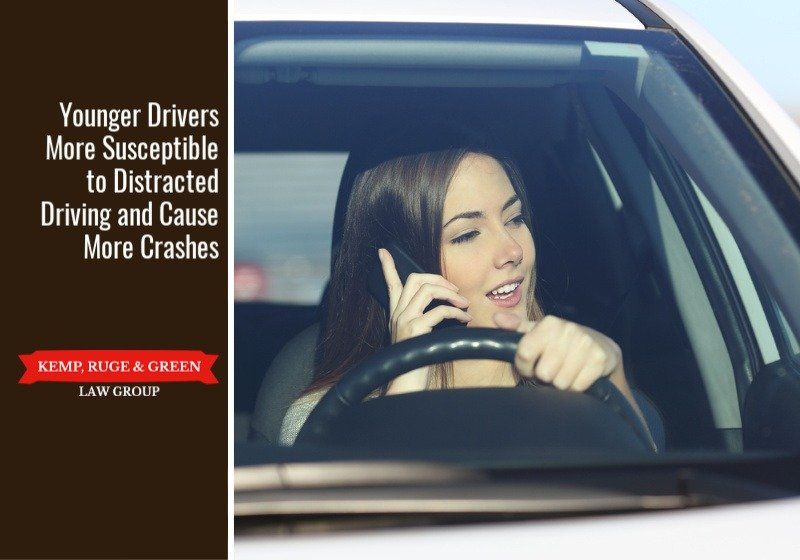 Key Points of This Article:
The NHTSA cites cell phones, in addition to driver inexperience, as the primary factors in distracted driving accidents among teenagers and people under the age of 25.
People who drive distracted are more likely to cause crashes that are more severe for passengers, bicyclists, pedestrians, other drivers and the distracted drivers themselves.
Hold a distracted driver responsible by filing a personal injury lawsuit.
When you're distracted while driving on Florida roadways, you're much more likely to cause a severe accident with serious injuries or deaths. That's the message from a new study by the Risk Institute at Ohio State University that looks at 1.4 million incidents that occurred from 2013 to 2017.
Distracted drivers are more likely to crash, harm passengers, hit bicyclists and pedestrians, cause rear-end collisions and have accidents in work zones, according to the study. By taking their eyes off the road, distracted drivers miss road signs and other environmental cues that would normally cause them to exercise caution.
Tampa Roads are Less Safe With Distracted Drivers
Right here in Florida, we're seeing the devastating effects of distracted driving time and again. Recently in Miami, a distracted driver struck a group of bicyclists at full speed, killing one and injuring six more. She claimed she was distracted by something in her car at the time of the crash.
In another local accident, the Scherer family of Tampa lost their three-year-old son when Gregory Andriotis failed to stop for traffic on I-75 and hit their car at more than 100 mph. A police investigation into the contents of Mr. Adriotis's phone revealed that he had been downloading apps, doing internet searches and paying bills online just before the collision.
These incidents highlight the impact of speed and reaction time when it comes to distracted driving. One of the factors involved in these types of crashes, according to the National Highway Traffic Safety Administration (NHTSA), is the failure to brake at the right moment due to the distraction. This causes a crash at high speed, making it more catastrophic for people and property.
Younger Drivers Cause More Crashes
All it takes it two seconds of distraction. In the time it takes you to glance down at your phone, unwrap a burger or turn to talk to your passenger, you can cause a catastrophic accident. In fact, the NHTSA points out a five-second distraction at 55 mph is like driving the length of a football field with your eyes closed.
Every day in the U.S., approximately nine people are killed and more than 1,000 are injured in distracted driving crashes. About half can be attributed to external factors, like poor road design or roadside distractions that catch the driver's attention, but the other half are from things that happen right in the driver's seat.
In the Ohio State study, 48% of accidents are attributed to in-vehicle distractions. The largest percentage of crashes are caused by people age 20 to 24. It's hard not to assume that cell phones and other electronic devices contributed to many of these incidents.
The NHTSA cites cell phones, in addition to driver inexperience, as the primary factors in distracted driving accidents among teenagers and people under the age of 25. According to research the NHTSA has conducted with the help of brain scientists, using a cell phone behind the wheel reduces the amount of brain activity associated with driving by 37% and this effect is compounded by factors like alcohol and drug use.
Hit By a Distracted Driver? Take Action With a Lawsuit.
If you're hit by a distracted driver or you're a passenger in one of these crashes, you don't have to accept their excuses for what happened. Sometimes "I was distracted, I'm sorry" just isn't enough, especially when you have medical bills, car damage, lost wages, pain and suffering as a result of someone else's negligence.
Empower yourself to hold the right person responsible by filing a personal injury lawsuit. These lawsuits place the blame where it belongs, squarely on the shoulders of people who endanger Florida citizens through distracted driving.
When Results Matter, Call Kemp, Ruge & Green of Tampa Bay
Regardless of the reason for your injury, if someone else caused it, the only way you can recover from your medical bills and other losses is through a personal injury claim. The attorneys at Kemp, Ruge & Green Law Group handle many areas of personal injury law including car accidents. We believe you should only have to work on getting well, while we worry about using the justice system to protect your rights. We give our clients with the best possible results-driven service. You pay us only if we win in injury cases. Call 877-941-4878 today for a free consultation.
Contact Us
About Your Case
We're ready to fight on your behalf. Request a free, no-risk consultation with our attorney's today.