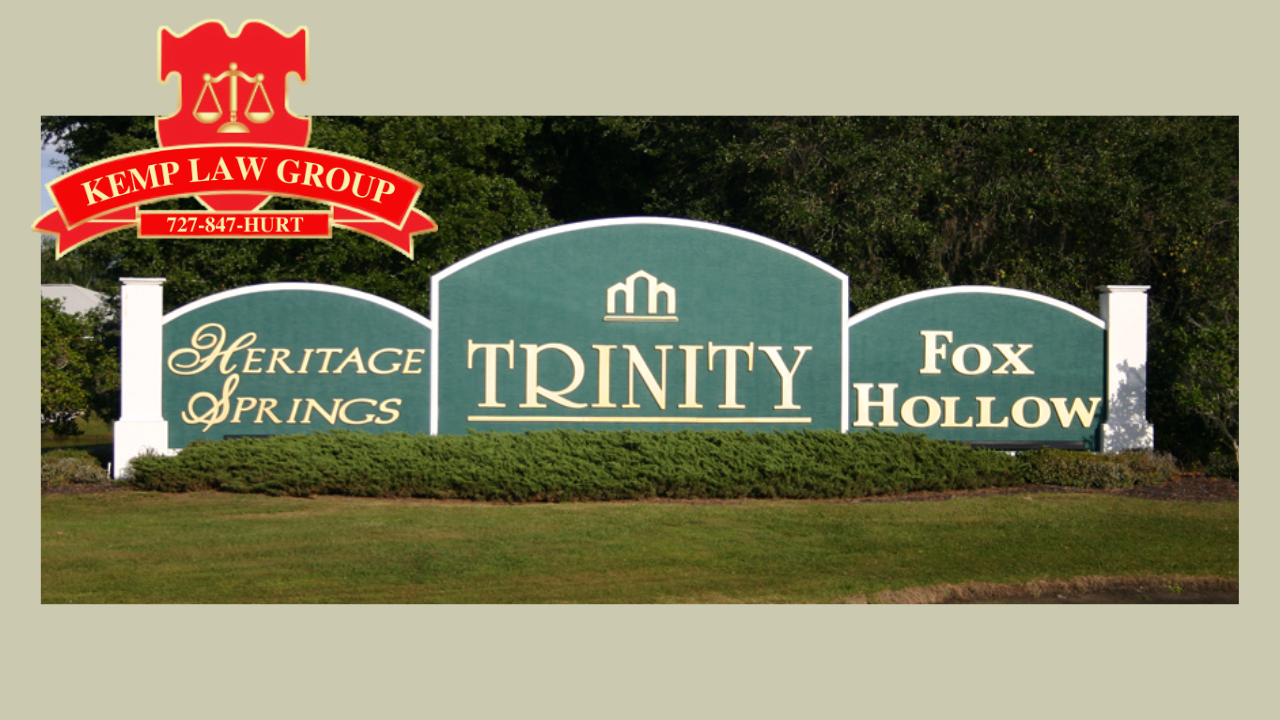 The Aftermath of a Hit and Run in Trinity, Florida
Trinity, Florida, is a picturesque community nestled in the heart of Pasco County, known for its serene landscapes and welcoming residents. However, even in this tranquil setting, accidents can happen, and one of the most traumatic experiences is being the victim of a hit and run. Such incidents can leave you physically and emotionally scarred, not to mention the mounting medical bills, vehicle repairs, and the quest for justice. In such trying times, it's crucial to have a trustworthy legal ally by your side. That's where Kemp Law Group comes in, providing the expert legal representation you need to navigate the aftermath of a hit and run.
The Shocking Aftermath:
A hit and run accident can shatter your sense of safety and well-being in an instant. The consequences can be profound, both for your health and financial stability:
1. Physical Injuries: Injuries sustained in a hit and run can range from minor bruises to life-altering trauma. Medical bills, therapy, and rehabilitation can quickly become overwhelming.
2. Emotional Trauma: The shock of being involved in a hit and run can cause lasting emotional scars, such as anxiety, depression, and even post-traumatic stress disorder (PTSD).
3. Financial Burden: The costs of medical treatment, vehicle repairs, and lost wages can quickly add up. Without the responsible party to hold accountable, you may feel helpless.
4. Legal Complications: Hit and run cases often involve complex legal procedures, and the stress of dealing with insurance companies can be overwhelming.
Why Choose Kemp Law Group:
Kemp Law Group is your trusted ally when you find yourself entangled in the aftermath of a hit and run in Trinity, Florida. Here's why you should consider them for your legal representation:
1. Experience and Expertise: The attorneys at Kemp Law Group are experienced in handling hit and run cases. They have a deep understanding of Florida's legal system and know the intricacies of personal injury law.
2. Compassion and Support: The team at Kemp Law Group is not just concerned about winning your case but also about your well-being. They provide the emotional support you need during this challenging time.
3. Investigation and Evidence: The firm conducts thorough investigations to gather crucial evidence, which is often instrumental in identifying and locating the hit and run driver.
4. Negotiation and Litigation: Kemp Law Group is skilled in negotiation with insurance companies, ensuring that you receive fair compensation. If needed, they can take your case to court, fighting tirelessly for your rights.
5. Personalized Approach: Every case is unique, and Kemp Law Group tailors their approach to meet your specific needs and circumstances.
6. Results and Track Record: The firm has a strong track record of achieving successful outcomes for their clients. They have secured substantial settlements and judgments in hit and run cases.
7. Accessible and Responsive: Communication is key during a legal process, and Kemp Law Group is known for their accessibility and responsiveness, keeping you informed every step of the way.
The aftermath of a hit and run in Trinity, Florida, is a challenging journey filled with physical, emotional, and financial hurdles. To navigate this difficult path, you need a legal team that understands your unique situation and has the experience to secure the justice and compensation you deserve. Kemp Law Group is that ally, ready to stand by your side, fight for your rights, and guide you through the legal complexities of your case. Choose Kemp Law Group to represent you during this difficult time and regain control of your life.
Contact Us
About Your Case
We're ready to fight on your behalf. Request a free, no-risk consultation with our attorney's today.